Faith Community Nursing: Scope and Standards of Practice
Scope and Standards of Practice
This title has been archived.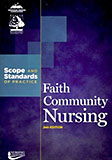 Author: American Nurses Association
Affiliation: American Nurses Association
Publisher: American Nurses Association
Publication Date: 2012
ISBN 10: 1558104291
ISBN 13: 9781558104297
eISBN: 9781558104303
Edition: 2nd

Description:
Faith community nursing is a practice specialty that focuses on the intentional care of the spirit, promotion of an integrative model of health, and prevention and minimization of illness within the context of a faith community. Such practitioners consider the spiritual, physical, psychological, and social aspects of an individual to create a sense of harmony with self, others, the environment, and a higher power. Authoritative and fully update, this publication addresses the essentials of faith community nursing, and is applicable to many faith traditions. Co-published with the Health Ministries Association, as were the 2005 and 1998 editions, its authoring workgroup represents the specialty's roles across the U.S. The 16 Standards of Faith Community Nursing Practice reflect the specialty's professional values and priorities and provide practice directions and the framework for practice evaluation. Each standard is measurable by a set of specific competencies that serve as evidence of minimal compliance with that standard. The book's single scope of practice specifies the who, what, where, when, why, and how of the practice that is common to and expected of all faith community nurses. While primarily for faith community nurses and the nursing profession, it is also aimed at other healthcare providers, spiritual leaders, families, and members of faith communities.
Related Titles