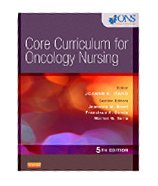 Author: Joanne Itano, RN, PhD, APRN
Affiliation:
Publisher: Elsevier Health Sciences
Publication Date: 2016
ISBN 10: 1455776262
ISBN 13: 9781455776269
eISBN: 9781455776597
Edition: 5th

Description:
There's no other OCN Exam review resource like it! The Core Curriculum for Oncology Nursing, 5th Edition is the only review book for the OCN Examination developed in collaboration with Oncology Nursing Society (ONS). Based on the latest test blueprint for the OCN Exam, this book covers the entire scope of practice for oncology nursing - in an outline format that emphasizes important information and streamlines your review. Edited by Joanne Itano, a certified oncology nurse, The Core Curriculum is recognized as the definitive review tool for the OCN exam. Whether you're preparing for your initial OCN certification or getting recertified, you cannot do without this resource! New to this edition: NEW! Revised and updated content reflects the latest OCN. Examination test blueprint. NEW! Updates on cancer treatment and related nursing care include the most current and accurate information, preparing you for exams and for clinical practice. NEW! Emphasis on QSEN competencies is designed to reduce errors in oncology nursing practice with a focus on safety and evidence-based practice, including a Safety Alert icon and a High-Alert Medications icon for cancer chemotherapy drugs. NEW! Coverage of application of the nursing process is streamlined to emphasize collaborative problems, goal setting, interventions, and evaluation.
Related Titles