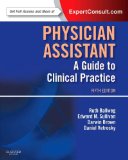 Author: Ruth Ballweg, MPA, PA-C, DFAAPA, Edward Sullivan, MS, PA-C, Darwin Brown, MPH, PA-C, DFAAPA, Daniel Vetrosky, PhD, PA-C, DFAAPA
Affiliation: University of Washington, Seattle
Publisher: Elsevier Health Sciences
Publication Date: 2013
ISBN 10: 1455706574
ISBN 13: 9781455706570
eISBN: 9781455723102
Edition: 5th

Description:
Prepare for every stage of your physician assistant career with Physician Assistant: A Guide to Clinical Practice, 5th Edition - the one text that takes you from your PA coursework through clinical practice! Concise, easy to read, and highly visual, this all-in-one resource by Ruth Ballweg, Edward M. Sullivan, Darwin Brown, and Daniel Vetrosky delivers the current, practical guidance you need to know to succeed in any setting. New to this edition Navigate today's professional challenges with new chapters on NCCPA Specialty Recognition; Communication Issues; the Electronic Health Record; Patient Safety and Quality of Care; Population-Based Practice; and Physician Assistants and Supervision. Meet ARC-PA accreditation requirements with coverage of key topics such as Student Safety in Clinical Settings, Health Care Delivery Systems, Population-Based Practice, and Mass Casualties/Disasters. Keep up with the PA competencies that are endorsed by the AAPA, PAEA, NCCPA, and ARC-PA. Master key concepts and clinical applications thanks to a succinct, bulleted writing style; convenient tables; practical case studies; and clinical application questions throughout. Retain what you've learned and easily visualize every aspect of clinical practice with a new full-color design and illustrations throughout. Explore global options with expanded coverage of physician assistants in international medicine.
Related Titles