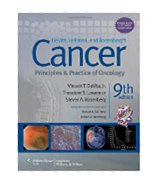 Author: Vincent DeVita, Jr. MD, Theodore Lawrence, MD, PhD, Steven Rosenberg, MD, PhD
Affiliation: Yale Comprehensive Cancer Center & Yale University School of Medicine
Publisher: Lippincott Williams & Wilkins
Publication Date: 2011
ISBN 10: 1451105452
ISBN 13: 9781451105452
eISBN: 9781469812991
Edition: 9th

Description:
DeVita, Hellman, and Rosenberg's Cancer: Principles and Practice of Oncology has been acclaimed by the worldwide medical community as the standard-setting oncology reference. Its primary goal is to present the practicing oncologist with the practical as well as cutting-edge information needed to ensure the best possible care for each individual patient. The hallmark of this book from its inception and a major reason it has gained worldwide acceptance as the definitive source of cancer information has been its approach to the treatment of cancer patients by stage of presentation with a tightly coordinated description of the role of each treatment modality in the care of individual patients. To ensure a balance multidisciplinary approach, a surgeon, a medical oncologist, and a radiation oncologist author each of the major treatment chapters. Each of the major treatment sections is preceded by an updated, brief chapter describing the molecular biology of that cancer and the prospects this new information holds for the improved management of cancer patients. Greater emphasis has been given in recent editions to the increasing importance of molecular biology and cancer screening and prevention, as well as palliative care, supportive oncology and quality of life issues.
Related Titles