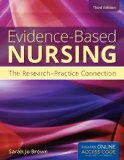 Author: Sarah Brown, PhD, RN
Affiliation: Consultant Emeritus, Evidence-Based Practice
Publisher: Jones & Bartlett Learning
Publication Date: 2014
ISBN 10: 1449697496
ISBN 13: 9781449697495
eISBN: 9781449690991
Edition: 3rd

Description:
Evidence-Based Nursing: The Research-Practice Connection, Third Edition introduces students to research methods and evidence-based practice (EBP). Written in an accessible style, the content moves readers through understanding how research is produced to appraisal at the critical thinking level. Timely information links evidence-based practice to recent work in the Safety and Quality programs that are underway in healthcare and nursing.
Related Titles