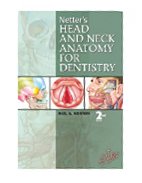 Author: Neil Norton, Ph.D.
Affiliation: Creighton University; Omaha, NE
Publisher: Elsevier Health Sciences
Publication Date: 2012
ISBN 10: 1437726631
ISBN 13: 9781437726633
eISBN: 9781455728275
Edition: 2nd

Description:
Netter's Head and Neck Anatomy for Dentistry, by Neil S. Norton, PhD, uses more than 600 full-color images from the Netter Collection to richly depict all of the key anatomy that's relevant to clinical practice. This new edition takes your knowledge further than ever with more Netter illustrations; addition of over 20 cone beam CT images; new chapters on the upper limbs, thorax, and abdomen; and more than 100 multiple-choice questions. Whether for your dental anatomy course, board review, or as a handy reference in your dental office, this concise, visual guide is an excellent anatomy atlas and quick reference for students and professionals in dentistry and dental hygiene.
Related Titles