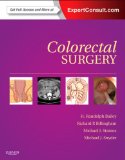 Author: H. Bailey, MD, Richard Billingham, MD, Michael Stamos, MD, Michael Snyder, MD
Affiliation: Weill Cornell Medical College, NY; The Methodist Hospital, Houston, TX
Publisher: Elsevier Health Sciences
Publication Date: 2013
ISBN 10: 1437717241
ISBN 13: 9781437717242
eISBN: 9781455737703
Edition: 1st

Description:
Colorectal Surgery equips you to overcome the clinical challenges you face in this area of surgery. Written for the general surgeon who is sometimes called upon to manage diseases and disorders of the large bowel, rectum, and anus, this reference provides advanced, expert guidance on how to avoid complications and achieve the most successful results. Elsevier does not support Expert Consult access for institutional subscribers.
Related Titles