Gynecologic and Obstetric Pathology
A Volume in the High Yield Pathology Series
This title has been archived.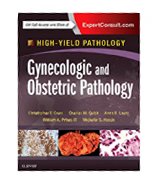 Author: Christopher Crum, MD, Anna Laury, MD, Michelle Hirsch, MD, PhD, Charles Quick, MD, William Peters, III, MD
Affiliation:
Publisher: Elsevier Health Sciences
Publication Date: 2016
ISBN 10: 1437714226
ISBN 13: 9781437714227
eISBN: 9781455737574
Edition: 1st

Description:
Part of the growing High-Yield Pathology Series, Gynecologic and Obstetric Pathology is designed to help you review the key features of ob/gyn specimens, recognize the classic look of each disease, and quickly confirm your diagnosis. Authors Christopher Crum, MD, Michelle S. Hirsch, MD, PhD, and William Peters III, MD, incorporate a logical format, excellent color photographs, concise bulleted text, and authoritative content to help you accurately identify hundreds of discrete disease entities affecting the female reproductive tract.
Related Titles