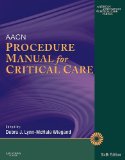 Author: Debra Lynn-McHale Wiegand, PhD, RN, CCRN, FAAN
Affiliation: University of Maryland School of Nursing, Baltimore
Publisher: Elsevier Health Sciences
Publication Date: 2011
ISBN 10: 1416062181
ISBN 13: 9781416062189
eISBN: 9781455776900
Edition: 6th

Description:
The AACN Procedure Manual for Critical Care, 6th Edition presents procedures for the critical care environment in an illustrated, consistent, and step-by-step format. The Procedures and Patient Monitoring sections are presented in a tabular format that includes special considerations and rationales for each intervention. References have been meticulously reviewed to ensure that the most authoritative and timely standards of practice are used. Additionally, the references supporting care recommendations are identified according to the latest AACN Evidence Leveling System to ensure that you have a complete understanding of the strength of the evidence base.
Related Titles