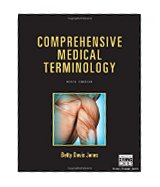 Author: Betty Jones, RN, MA, CMA (AAMA)
Affiliation:
Publisher: Delmar Cengage Learning
Publication Date: 2016
ISBN 10: 1285869540
ISBN 13: 9781285869544
eISBN: 9781305537088
Edition: 5th

Description:
COMPREHENSIVE MEDICAL TERMINOLOGY, Fifth Edition, offers an engaging, effective introduction to medical terminology to prepare you for career success in nursing, medical assisting, and other allied health professions. Organized by body system and specialty areas of practice, this comprehensive, highly practical guide emphasizes anatomy and physiology, pathological conditions, diagnostic techniques, and procedures to provide useful real-world context. The study of word parts is integrated into every chapter to enhance comprehension, and definitions progress from simple to complex to steadily strengthen your ability to read and interpret medical terms in reports and charts. A new Learning Lab online learning solution helps you master key concepts through interactive simulations based on real-world scenarios.
Related Titles