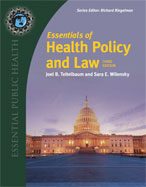 Author: Joel Teitelbaum, JD, LLM, Sara Wilensky, JD, PhD
Affiliation: Department of Health Policy, Milken Institute School of Public Health, The George Washington University
Publisher: Jones & Bartlett Learning
Publication Date: 2017
ISBN 10: 1284087549
ISBN 13: 9781284087543
eISBN: 9781284087550
Edition: 3rd

Description:
Public opinion polls, media coverage, legal disputes, and policy debates at all levels of government and in private industry . debates ranging from the health of the national economy to the health of state populations to the health of a single individual sickened by Ebola hemorrhagic fever . attest to the important place that individual health care and public health hold in the minds of the American public, policymakers, and lawmakers. Indeed, the range of topics covered by the legal disputes and policy debates is breathtaking. For example, how should finite financial resources be allocated between health care and public health. What kind of return (in terms of quality of individual care and the overall health of the population) should we expect from the staggering amount of money we collectively spend on health? Should individuals have a legal entitlement to health insurance. How should we attack extant health disparities based on race, ethnicity, and socioeconomic status.
Related Titles