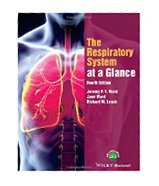 Author: Jeremy Ward, PhD, Jane Ward, MBChB, PhD, Richard Leach, MD, FRCP
Affiliation: King's College, London
Publisher: Wiley-Blackwell
Publication Date: 2015
ISBN 10: 1118761073
ISBN 13: 9781118761076
eISBN: 9781118761069
Edition: 4th

Description:
The Respiratory System at a Glance has been thoroughly updated in line with current practice guidelines and new techniques to provide a highly illustrated and comprehensive guide to normal lung structure and function, as well as associated pathophysiology. Each topic has been fully revised and is accompanied by clear diagrams to encapsulate essential knowledge. Reflecting changes to the content, teaching and assessment methods used in medical education, this new edition now includes more information on acid base and its clinical ramifications, further detail on defence mechanisms and immunology, and also features online access to clinical cases and flashcards.
Related Titles