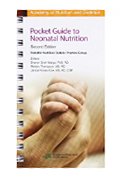 Author: Sharon Groh-Wargo, PhD, RD, LD, Melody Thompson, MS, RD, LD, Janice Cox, MS, RD, CSP
Affiliation:
Publisher: Academy of Nutrition and Dietetics
Publication Date: 2016
ISBN 10: 0880914874
ISBN 13: 9780880914871
eISBN: 9780880915687
Edition: 2nd

Description:
Updated to reflect current research and best practices, the Academy of Nutrition and Dietetics Pocket Guide to Neonatal Nutrition, Second Edition is an indispensable tool for registered dietitian nutritionists and other health care professionals working with premature infants. The easy-to-use format presents practical information on topics including nutrition assessment, parenteral nutrition, enteral nutrition, medical/surgical conditions, discharge and follow-up, and conversion tables. Includes key updates to medical surgical conditions and growth charts, addresses parenteral nutrition shortages and new enteral products, and discusses safety issues with the use of thickeners.
Related Titles