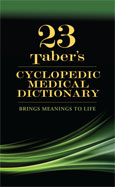 Author: Donald Venes, M.D., M.S.J., F.A.C.P.
Affiliation:
Publisher: F.A. Davis Company
Publication Date: 2017
ISBN 10: 0803659040
ISBN 13: 9780803659049
eISBN: 9780803659407
Edition: 23rd

Description:
Taber's brings meanings to life. Put the language of nursing, medicine and the healthcare professions at your fingertips. In hand, online, or on your mobile device—anywhere and everywhere, Taber's 23 is the all-in-one, go-to source in the classroom, clinical, and beyond. Under the editorial direction of Donald Venes, MD, MSJ, a team of expert consulting editors and consultants representing nearly every health care profession ensures that the content reflects the most current healthcare information.
Related Titles