Essentials of Psychiatric Mental Health Nursing
Concepts of Care in Evidence-Based Practice
This title has been archived.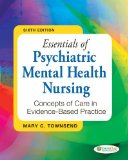 Author: Mary Townsend, DSN, PMHCNS-BC
Affiliation: Consultant.
Publisher: F.A. Davis Company
Publication Date: 2014
ISBN 10: 0803638760
ISBN 13: 9780803638761
eISBN: 9780803640511
Edition: 6th

Description:
New DSM-5 Content!Whether it s an entire course on psychiatric nursing or integrating these principles into an existing course, this is the text that s concise, engaging, and informative. It offers an evidence-based, holistic approach to mental health nursing.
Related Titles