Nurse's Pocket Guide
Diagnoses, Prioritized Interventions, and Rationales
This title has been archived.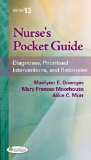 Author: Marilynn Doenges, APRN, BC—Retired, Mary Moorhouse, RN, MSN, CRRN, LNC, Alice Murr, BSN, RN—Retired
Affiliation: Retired, Beth-El College of Nursing and Health Sciences, Colorado Springs, CO
Publisher: F.A. Davis Company
Publication Date: 2013
ISBN 10: 0803627823
ISBN 13: 9780803627826
eISBN: 9780803639669
Edition: 13th

Description:
This pocket-sized, quick-reference tool has what you need to select the appropriate diagnosis to plan your patient's care effectively. The 13th Edition features all the latest nursing diagnoses and updated interventions. There's also a laminated "pocket minder" quick reference bookmark to make diagnosis even easier.
Related Titles