Maternal-Newborn Nursing Care
Best Evidence-Based Practices
This title has been archived.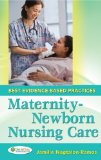 Author: Jamille Nagtalon-Ramos, MSN, CRNP, WHNP-BC
Affiliation: University of Pennsylvania School of Nursing, Philadelphia
Publisher: F.A. Davis Company
Publication Date: 2014
ISBN 10: 0803622465
ISBN 13: 9780803622463
eISBN: 9780803640269
Edition: 1st

Description:
This concise guide delivers all the practical information you need to care for women and newborns. It clearly explains what to say and what to do for a broad range of maternal-newborn challenges, including contraception, STDs, pregnancy, labor and delivery, postpartum care, domestic violence, and more. The straight-forward writing makes complex subjects easy to understand. A spiral binding with thumb tabs and a full-color design with illustrations will make it your reference of choice.
Related Titles