NURSING DIAGNOSIS MANUAL
Planning, Individualizing, and Documenting Client Care
This title has been archived.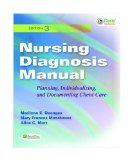 Author: Marilynn Doenges, APN, BC—Retired, Mary Moorhouse, RN, MSN, CRRN, LNC, Alice Murr, BSN, RN—Retired
Affiliation: Retired, Beth-El College of Nursing, CU-Springs; Colorado Springs, CO
Publisher: F.A. Davis Company
Publication Date: 2010
ISBN 10: 080362221X
ISBN 13: 9780803622210
Edition: 3rd

Description:
Provides a practical approach to planning and documenting patient care. It includes introductory information about the nursing process and nursing diagnosis, interactive care plan worksheets, NIC/NOC, concept mapping, and highlights community-based/home care interventions.
Related Titles