Medical Terminology Simplified: A Programmed Learning Approach by Body System This title has been archived.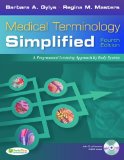 Author: Barbara Gylys , BS, MEd, CMA-A, Regina Masters, BSN, MEd, RN, CMA
Affiliation: University of Toledo, OH
Publisher: F.A. Davis Company
Publication Date: 2010
ISBN 10: 0803620918
ISBN 13: 9780803620919
Edition: 4th

Description:
A programmed learning, word-building approach is ideal for self-paced learning and review and in-class instruction! The 4th Edition of this popular textbook continues to incorporate the most current trends and approaches to teaching medical terminology. Each body system unit features a summary of major combining forms, a comprehensive pathology section, and additional medical records and evaluations to help your students learn quickly and easily. Give your students the freedom to learn at their own pace, both inside or outside of the classroom.
Related Titles