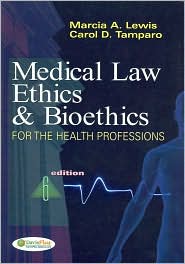 Table of Contents Available
This title has been archived.
Author: Marcia (Marti) Lewis, EdD, RN, CMA-AC, Carol Tamparo, PhD, CMA-A
Affiliation: Olympic College, Bremerton, WA
Publisher: F.A. Davis Company
Publication Date: 2007
ISBN 10: 0803617305
ISBN 13: 9780803617308
Edition: 6th
Description:
Now in its sixth edition, Medical Law, Ethics and Bioethics for Health Professions continues to champion the "Have a Care" cause while providing readers with a strong ethical and legal foundation to better serve their clients. Any direct client contact involves ethical and legal responsibility and a certain level of ambulatory health care knowledge. This book provides that and provides a solid groundwork for ambulatory care as it pertains to legal concepts and laws, ethical issues, and bioethics faced in today's medical practices - by today's health care professionals.