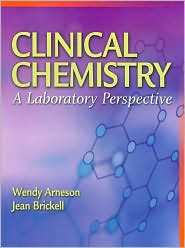 Table of Contents Available
This title has been archived.
Author: Wendy Arneson, MS, MT(ASCP), Jean Brickell, EdD, MT(ASCP)
Affiliation: University of Oklahoma, Tulsa
Publisher: F.A. Davis Company
Publication Date: 2007
ISBN 10: 0803614985
ISBN 13: 9780803614987
Edition: 1st
Description:
Organized almost entirely around organ systems, this ground-breaking text teaches the concepts and principles of clinical chemistry through realistic situations and scenarios. The authors developed this practical approach to encourage students to apply theoretical principles in the laboratory and to develop practical, critical-thinking skills.
Table of Contents
Front Matter
ABOUT
DEDICATION
Preface
Acknowledgments
Reviewers
Contributors
1: Overview of Clinical Chemistry
OBJECTIVES
Clinical Chemistry Is a Service and an Industry
REGULATORY GUIDELINES
LICENSURE AND REGISTRY
Clinical Chemistry Is a Science
SUMMARY
EXERCISES
References
2: Quality Assessment
OBJECTIVES
QUALITY ASSESSMENT VERSUS QUALITY CONTROL
PREANALYTICAL ERRORS AND SPECIMEN PROBLEMS
POSTANALYTICAL FACTORS
SUMMARY
EXERCISES
References
3: Laboratory Techniques and Instrumentation
OBJECTIVES
HISTORY OF MEASUREMENT IN THE LABORATORY
MAKING THE DILUTION
DETERMINING MASS
INSTRUMENTATION
SPECTROPHOTOMETRY
OTHER PHOTOMETRIC TECHNIQUES
ANALYSIS WITH ELECTROCHEMISTRY
CHROMATOGRAPHY
IMMUNOASSAY TECHNIQUES
FUTURE INSTRUMENTATION PRINCIPLES IN CLINICAL CHEMISTRY
SUMMARY
EXERCISES
References
4: Diabetes and Other Carbohydrate Disorders
OBJECTIVES
DIABETES MELLITUS
LABORATORY RESULTS IN TYPE 1 DIABETES
GALACTOSEMIA
OTHER CARBOHYDRATE METABOLIC DISORDERS
QUALITY ASSURANCE
SUMMARY
EXERCISES
References
5: Hemoglobin Production Disorders and Testing
OBJECTIVES
HEME SYNTHESIS
ABSORPTION, TRANSPORT, AND STORAGE OF IRON
ASSESSING IRON LEVELS AND FORMS
MEASURING LEAD LEVELS
PORPHYRINS
GLYCATED HEMOGLOBIN
SUMMARY
EXERCISES
References
6: Assessment of Renal Function
OBJECTIVES
CREATININE METABOLISM
GLOMERULAR NEPHRITIS
NEPHROTIC SYNDROME
AZOTEMIA
TYPES AND ASPECTS OF RENAL FAILURE
CALCULATION OF FRACTIONAL EXCRETION OF SODIUM
RENAL CONTROL OF ACID-BASE BALANCE
THE ROLE OF ELECTROLYTES
RENAL TUBULAR ACIDOSIS
HEMOLYSIS
ELECTROLYTE ANALYSIS
RENAL IMPACT ON WATER AND ELECTROLYTES
PHYSIOLOGY: HORMONAL AND RENAL CONTROL OF ELECTROLYTES AND MINERALS
KIDNEY STONES
SUMMARY
EXERCISES
References
7: Assessment of Liver Function
OBJECTIVES
TESTS FOR LIVER FUNCTION
LIVER ANATOMY AND PHYSIOLOGY
BILIRUBIN METABOLISM
HYPERBILIRUBINEMIA
NEONATAL HYPERBILIRUBINEMIA
PATHOPHYSIOLOGY OF LIVER ENZYMES
ANALYTICAL ASPECTS OF LIVER ENZYMES
OTHER LABORATORY TEST RESULTS THAT CORRESPOND WITH LIVER DISORDERS
AMMONIA METABOLISM
CLINICAL SIGNIFICANCE OF ALKALINE PHOSPHATASE
SUMMARY
EXERCISES
References
8: Assessment of Cardiovascular Disorders
OBJECTIVES
THE FIRST THREE PATIENTS IN THE EMERGENCY DEPARTMENT
ACUTE MYOCARDIAL INFARCTION
LIPIDS AND LIPOPROTEINS
NATRIURETIC PEPTIDES
WHY WOMEN AND MEN EXPERIENCE DIFFERENT RISK FOR HEART ATTACKS
DELAYED DIAGNOSIS OF AMI
DIFFERENCES IN ELDERLY PATIENTS
SUMMARY
EXERCISES
References
9: Assessment of Respiratory Disorders
OBJECTIVES
COLLECTION AND HANDLING OF ARTERIAL BLOOD GASES
QUALITY ASSESSMENT AND IMPROVEMENT FOR ARTERIAL BLOOD GASES
ACID-BASE STATUS
VENTILATION AND PCO 2 RELATIONSHIP
OXYGENATION STATUS
RESPIRATORY DISORDERS
ANALYSIS OF OXYGENATION
TOXIC GASES
PROFICIENCY TESTING AND OTHER QUALITY ASSURANCE ISSUES
POINT-OF-CARE TESTING FOR BLOOD GASES
SUMMARY
EXERCISES
References
10: Assessment of Nutrition and Digestive Function
OBJECTIVES
Nutrition
Nutritional Disorders
Digestive Disorders
SUMMARY
EXERCISES
References
11 : Endocrine Disorders and Function
OBJECTIVES
ENDOCRINOLOGY
THE PITUITARY GLAND
THE ADRENAL GLANDS
DISEASES OF THE ADRENAL CORTEX
SUMMARY OF ADRENAL CORTEX DISORDERS
ROLE OF ALDOSTERONE
GROWTH HORMONE
ADRENAL MEDULLARY HORMONES
DISORDERS OF ADRENAL MEDULLARY HORMONES
LABORATORY TESTING FOR ADRENAL MEDULLARY DISORDERS
ROLE OF ENDOCRINE GLANDS IN THYROID FUNCTION
TESTING FOR THYROID DISORDERS
HYPERTHYROIDISM
DISORDERS OF WATER BALANCE
MINERAL METABOLISM
PREANALYTICAL VARIATIONS IN HORMONE TESTING
SUMMARY
EXERCISES
References
12 : Reproductive Endocrinology and Fetal Testing
OBJECTIVES
PREGNANCY
PREGNANCY TESTS AND EARLY MARKERS OF PROBLEMS
SEX STEROIDS
ENDOCRINE GLANDS INVOLVED IN REPRODUCTION
OVERVIEW OF NORMAL FEMALE REPRODUCTIVE PHYSIOLOGY
THE FEMALE REPRODUCTIVE CYCLE
NORMAL MALE REPRODUCTIVE PHYSIOLOGY
HORMONAL CHANGES IN MENOPAUSE
FEMALE INFERTILITY
QUALITY ASSESSMENT
ALPHA FETOPROTEIN
FETAL SCREENING
MULTIPLES OF THE MEDIAN
OTHER SIGNIFICANT BIRTH DEFECTS AND INBORN ERRORS OF METABOLISM
REFERENCE RANGES IN NEONATES
DEVELOPMENT OF HEMOLYTIC DISEASE OF THE NEWBORN
FETAL LUNG MATURITY
AMNIOTIC FLUID COLLECTION
TESTS FOR FETAL LUNG MATURITY
SUMMARY
EXERCISES
References
13 : Malignancy Disorders and Testing
OBJECTIVES
LABORATORY TESTS TO SCREEN FOR DISEASE
TUMOR MARKERS FOR COLORECTAL CANCER
PROTEIN ELECTROPHORESIS
MULTIPLE MYELOMA
NEW TECHNIQUES TO HELP DIAGNOSIS OF MONOCLONAL GAMMOPATHIES
OTHER DISORDERS OF LYMPHOCYTES
CA 125
MEDICAL DECISION LIMITS
THE CELL CYCLE
MOLECULAR DIAGNOSTICS
PROSTATE CANCER
SODIUM AND WATER BALANCE
PANCREATIC CANCER
SUMMARY
EXERCISES
References
14 : Therapeutic Drug Monitoring and Toxicology
OBJECTIVES
Therapeutic Drug Monitoring
Toxicology
SUMMARY
EXERCISES
References
Glossary
Appendix
Topics within this title:
Azotemia
Birth Defects
Bronchitis
Cancer
Chronic Bronchitis
Cirrhosis
Colorectal Cancer
Cystic Fibrosis
Diabetes
Diabetes Mellitus
Disease Progression
Female Infertility
Fibrosis
Galactosemia
Hemolysis
Hepatic Encephalopathy
Hepatitis
Hyperbetalipoproteinemia
Hyperbilirubinemia
Hyperlipoproteinemia
Hypertension
Hyperthyroidism
Hypothyroidism
Inborn Errors of Metabolism
Infarction
Infertility
Jaundice
Kidney Stones
Macrocytic Anemia
Monoclonal Gammopathies
Multiple Myeloma
Myocardial Infarction
Neonatal Hyperbilirubinemia
Nephrotic Syndrome
Nutritional Disorders
Pancreatic Cancer
Prediabetes
Prostate Cancer
quality assurance
Syndrome
Toxicity
Tumor
Zollinger-Ellison Syndrome