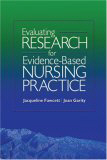 Author: Jacqueline Fawcett, PHD, FAAN, Joan Garity, EDD, RN
Affiliation:
Publisher: F.A. Davis Company
Publication Date: 2009
ISBN 10: 0803614896
ISBN 13: 9780803614895
eISBN: 9780803622289
Edition: 1st

Description:
Step-by-step, two noted authors and educators show you how to: find specific research in the literature; evaluate the methods used; determine if the findings support the theories and models that define nursing practice; and incorporate the results into the care you provide your patients. Using research studies from around the world, they also offer insights into the wide range of investigations nurses are conducting today.
Related Titles