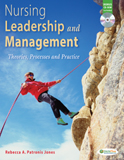 Table of Contents Available
This title has been archived.
Author: Rebecca Patronis Jones, DNSc, RN, CNAA, BC
Affiliation: West Suburban College of Nursing; Oak Park, IL
Publisher: F.A. Davis Company
Publication Date: 2007
ISBN 10: 0803613628
ISBN 13: 9780803613621
Edition: 1st
Description:
Author Rebecca Patronis Jones developed this comprehensive text on the philosophy that all nurses are leaders who use creative decision making, entrepreneurship, and life-long learning to create a work environment that is efficient, cost-effective, and committed to quality care. This book provides broad and comprehensive coverage of leadership and management theories and processes by synthesizing information from nursing, health care, general administration and management, and leadership literature.
Table of Contents
Front Matter
ABOUT
DEDICATION
Guide to Nursing Leadership and Management: Theories, Processes and Practice
preface
contributors
reviewers
acknowledgments
1 UNDERSTANDING THE THEORY OF LEADING, FOLLOWING, AND MANAGING UNDERSTANDING THE THEORY OF LEADING, FOLLOWING, AND MANAGING
chapter 1: Leadership and Followership

CHAPTER MOTIVATION
CHAPTER MOTIVES
Leadership Theories— Past and Contemporary
Leadership Practices and Tasks
Perspectives on Followership
Differences Between Leadership and Management
Nursing Leaders
Leadership Qualities
All Good Things …
NCLEX Questions
REFERENCES

chapter 2: Management Theory

CHAPTER MOTIVATION
CHAPTER MOTIVES
Management and Leadership Revisited
Management for Nurses
All Good Things…
NCLEX Questions
REFERENCES

chapter 3: Motivating Yourself and Others for a Satisfying Career

CHAPTER MOTIVATION
CHAPTER MOTIVES
Theories of Employee Motivation
Motivation Yields Job Satisfaction Yields More Successful Organizations
Leadership Makes a Difference
All Good Things…
NCLEX Questions
REFERENCES
BIBLIOGRAPHY
2 UNDERSTANDING ORGANIZATIONS
chapter 4: Understanding Organizational Structures

CHAPTER MOTIVATION
CHAPTER MOTIVES
Organizational Theory
Organizational Components and Planning
The Organization Chart
Type of Organizational Structures
Organizational Culture and Climate
All Good Things…
NCLEX Questions
REFERENCES
BIBLIOGRAPHY
Additional Bibliography

chapter 5: Legal and Ethical Knowledge for Nurses

CHAPTER MOTIVATION
CHAPTER MOTIVES
The Legal System
Ethical Foundations
All Good Things…
NCLEX Questions
REFERENCES

chapter 6: Regulating Nursing

CHAPTER MOTIVATION
CHAPTER MOTIVES
The Nursing Practice Act
Nursing Competencies
Evidence-Based Practice: The Standard of Care
Accreditation as Nursing Regulation
Legislative and Administrative Regulation of Nursing
CENTERS FOR MEDICARE AND MEDICAID SERVICES (CMS)
All Good Things…
NCLEX Questions
REFERENCES
BIBLIOGRAPHY

chapter 7: Economic Influences

CHAPTER MOTIVATION
CHAPTER MOTIVES
Current Status of Health Care in the United States
Major Third-Party Payers
Basic Economic Theories of Supply and Demand
Maximizing Profits
All Good Things…
NCLEX Questions
REFERENCES
BIBLIOGRAPHY

chapter 8: Organizational Communication

CHAPTER MOTIVATION
CHAPTER MOTIVES
Communication Theories
Organizational Structure as It Influences Communication
Types of Organizational Communication
Gender and Generational Differences in Communication
Information Technology and Electronic Communication
Importance of Organizational Communication
All Good Things…
NCLEX Questions
REFERENCES
BIBLIOGRAPHY

chapter 9: Informatics

CHAPTER MOTIVATION
CHAPTER MOTIVES
Definition of Nursing Informatics
Nursing Informatics Standards of Practice
Health-Care Data Standards
Data Elements
Knowledge Representation
Terminologies
Information System Goals for the Early 21st Century
Computer Hardware
Privacy and the Protection of Health-Care Data
All Good Things…
NCLEX Questions
REFERENCES
3 SKILLS FOR BEING AN EFFECTIVE LEADER
chapter 10: Enhancing Your Critical Thinking, Decision Making, and Problem Solving

CHAPTER MOTIVATION
CHAPTER MOTIVES
Critical Thinking
Making Decisions
Problem Solving
All Good Things…
NCLEX Questions
REFERENCES
BIBLIOGRAPHY

chapter 11: Nurses Leading Change

CHAPTER MOTIVATION
CHAPTER MOTIVES
Elements of Change
Strategies for Leading Planned Change
Barriers to Change and Strategies to Overcome Them
Change Theories
All Good Things…
NCLEX Questions
REFERENCES

chapter 12: Building Teams for Productivity and Efficiency

CHAPTER MOTIVATION
CHAPTER MOTIVES
Group Work
Group Stages of Development
Interdisciplinary Teams
Effective Communication Within Teams
Team Leading
All Good Things…
NCLEX Questions
REFERENCES

chapter 13: Power, Politics, and Policy

CHAPTER MOTIVATION
CHAPTER MOTIVES
Power
Politics
Policy
All Good Things…
NCLEX Questions
REFERENCES
4 SKILLS FOR BEING AN EFFECTIVE MANAGER
chapter 14: Planning and Marketing for a Healthy Organization

CHAPTER MOTIVATION
CHAPTER MOTIVES
Types of Planning
Strategic Planning Process
Marketing
All Good Things…
NCLEX Questions
REFERENCES

chapter 15: Managing Quality and Patient Safety

CHAPTER MOTIVATION
CHAPTER MOTIVES
Drivers of Quality
Models of Quality
Nursing Quality
Quality Tools and Strategies
Risk Management
Outcomes Measurement
All Good Things…
NCLEX Questions
REFERENCES
BIBLIOGRAPHY

chapter 16: Budgeting

CHAPTER MOTIVATION
CHAPTER MOTIVES
Fiscal Planning and Budgeting
Cost Containment
All Good Things…
NCLEX Questions
REFERENCES
BIBLIOGRAPHY

chapter 17: Staffing and Scheduling

CHAPTER MOTIVATION
CHAPTER MOTIVES
Background
Staffing
All Good Things…
NCLEX Questions
REFERENCES
BIBLIOGRAPHY

chapter 18: Maximizing Employee Performance

CHAPTER MOTIVATION
CHAPTER MOTIVES
Performance Appraisal
The Appraisal Meeting
All Good Things…
NCLEX Questions
REFERENCES

chapter 19: Nursing Celebrates Cultural Diversity

CHAPTER MOTIVATION
CHAPTER MOTIVES
Foundations of Cultural Study
Models of Cultural Competence
Cultural Competence in Practice
Managing a Culturally Diverse Workforce
All Good Things…
NCLEX Questions
REFERENCES
BIBLIOGRAPHY

chapter 20: Constructive Conflict Management

CHAPTER MOTIVATION
CHAPTER MOTIVES
Dimensions of Conflict
Assessment of the Conflict Situation
The Role of Negotiation in Constructive Conflict Management
All Good Things…
NCLEX Questions
REFERENCES

chapter 21: Delegation: An Art of Professional Practice

CHAPTER MOTIVATION
CHAPTER MOTIVES
Components of Delegation
Rights of Delegation
All Good Things…
NCLEX Questions
REFERENCES
5 SKILLS FOR A SUCCESSFUL CAREER
chapter 22: Manage Yourself for a More Fulfilling Career

CHAPTER MOTIVATION
CHAPTER MOTIVES
Who Am I?
Achieving Goals
Transitioning From Student to Professional Nurse
All Good Things…
NCLEX Questions
REFERENCES

chapter 23: Getting Your First Job

CHAPTER MOTIVATION
CHAPTER MOTIVES
Getting Your First Job
Practice What You Preach and Teach: Use an Organized Process for Job Prospecting
All Good Things…
NCLEX Questions
REFERENCES

chapter 24: Career Development

CHAPTER MOTIVATION
CHAPTER MOTIVES
Building a Nursing Career: A Chance to Grow
Innovative Opportunities: Entrepreneurship and Intrapreneurship
Career Planning and Development: Phases
Marketing, Networking, and Mentoring
Nurse Intrapreneurs
Nurse Entrepreneurs
All Good Things…
NCLEX Questions
REFERENCES
BIBLIOGRAPHY

chapter 25: Managing Your Professional and Financial Future

CHAPTER MOTIVATION
CHAPTER MOTIVES
Nursing Education
Certification
Professional Organizations
Scholarship
Future Financial Planning
All Good Things…
NCLEX Questions
REFERENCES
Topics within this title:
efficiency
risk management
Sleep Deprivation
Stress