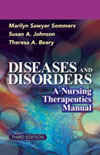 Table of Contents Available
This title has been archived.
Author: Marilyn Sommers, RN, PhD, FAAN, Susan Johnson, RN, PhD, Theresa Beery, PhD, RN
Affiliation: University of Pennsylvania, Philadelphia
Publisher: F.A. Davis Company
Publication Date: 2007
ISBN 10: 0803613377
ISBN 13: 9780803613379
Edition: 3rd
Description:
In a concise format, this handbook allows nurses and students to quickly find –– and understand –– information on disorders so they can effectively plan nursing care. Offering a clear but comprehensive discussion of pathophysiology, and providing rationales in the medications and laboratory sections, Diseases and Disorders will help students understand the scientific basis for the nursing care patients need. It is an excellent reference for students transitioning from classroom to clinical settings and nurses working in community and clinical settings.
Table of Contents
Front Matter
ABOUT
DEDICATION
Preface
Consultants
Nursing Diagnoses Accepted for Use and Research (2005–2006)
A
Abdominal Aortic Aneurysm
Abdominal Trauma
Abortion, Spontaneous
Abruptio Placentae
Acid-Base Imbalances: Metabolic Acidosis and Alkalosis; Respiratory Acidosis and Alkalosis
Acquired Immunodeficiency Syndrome
Acromegaly
Acute Adrenal Crisis
Acute Alcohol Intoxication
Acute Respiratory Distress Syndrome
Adrenal Insufficiency (Addison's Disease)
Air Embolism
Alcohol Withdrawal
Allergic Purpura
Alzheimer's Disease
Amputation
Amyloidosis
Amyotrophic Lateral Sclerosis
Anaphylaxis
Angina Pectoris
Anorectal Abscess and Fistula
Anorexia Nervosa
Aortic Valve Insufficiency
Aortic Valve Stenosis
Aplastic Anemia
Appendicitis
Arterial Occlusive Disease
Asthma
Atelectasis
Atrial Dysrhythmias
B
Basal Cell Carcinoma
Benign Prostatic Hyperplasia (Hypertrophy)
Bladder Cancer
Blood Transfusion Reaction
Bone Cancer
Botulism
Brain Cancer
Breast Cancer
Bronchiolitis (Respiratory Syncytial Viral Infection)
Bronchitis
Bulimia Nervosa
Burns
C
Calculi, Renal
Candidiasis (Moniliasis)
Cardiac Contusion (Myocardial Contusion)
Cardiac Tamponade
Cardiogenic Shock
Cardiomyopathy
Carpal Tunnel Syndrome
Cataract
Cerebral Aneurysm
Cerebral Concussion
Cerebrovascular Accident
Cervical Cancer
Cervical Incompetence
Chlamydial Infections
Cholecystitis and Cholelithiasis
Chorioamnionitis
Chronic Fatigue Immune Dysfunction Syndrome
Cirrhosis
Cleft Lip; Cleft Palate
Colorectal Cancer
Cor Pulmonale
Coronary Artery Disease (Arteriosclerosis)
Crohn's Disease
Cushing's Syndrome
Cystic Fibrosis
Cystitis
Cystocele; Rectocele
Cytomegalovirus Infection
D
Degenerative Joint Disease (DJD)
Diabetes Insipidus
Diabetes Mellitus
Diffuse Axonal Injury
Dislocation; Subluxation
Disseminated Intravascular Coagulation
Diverticular Disease
Dysfunctional Uterine Bleeding
E
Ectopic Pregnancy
Emphysema
Encephalitis
Endometriosis
Epididymitis
Epidural Hematoma
Epilepsy
Esophageal Cancer
Esophageal Diverticula
F
Fat Embolism
Fetopelvic Disproportion
Fibrocystic Breast Condition
G
Gallbladder and Biliary Duct (Biliary System) Cancer
Gastric Cancer
Gastritis
Gastroenteritis
Gastroesophageal Reflux Disease (GERD)
Glaucoma
Glomerulonephritis, Acute
Goiter
Gonorrhea
Guillain-Barré Syndrome
Gunshot Wound
H
Heart Failure
Hemophilia
Hemorrhoids
Hemothorax
Hepatitis
Herniated Disk
Herpes Simplex Virus
Herpes Zoster (Shingles)
Hodgkin's Disease
Hydronephrosis
Hypercalcemia
Hyperchloremia
Hyperglycemia
Hyperkalemia
Hyperlipoproteinemia
Hypermagnesemia
Hypernatremia
Hyperparathyroidism
Hyperphosphatemia
Hypertension
Hyperthyroidism
Hypocalcemia
Hypochloremia
Hypoglycemia
Hypokalemia
Hypomagnesemia
Hyponatremia
Hypoparathyroidism
Hypophosphatemia
Hypothyroidism
Hypovolemic/Hemorrhagic Shock
I
Idiopathic Thrombocytopenia Purpura
Infective Endocarditis
Influenza
Inguinal Hernia
Intestinal Obstruction
Intracerebral Hematoma
Intrauterine Fetal Demise
Intussusception
Iron Deficiency Anemia
Irritable Bowel Syndrome
J
K
L
Laryngeal Cancer
Laryngotracheobronchitis (Croup)
Legionnaires' Disease
Leukemia, Acute
Leukemia, Chronic
Liver Failure
Lung Cancer
Lupus Erythematosus
Lyme Disease
Lymphoma, Non-Hodgkin's
M
Mallory-Weiss Syndrome
Mastitis
Melanoma Skin Cancer
Meningitis
Migraine Headache
Mitral Insufficiency (Regurgitation)
Mitral Stenosis
Mononucleosis, Infectious
Multiple Myeloma
Multiple Organ Dysfunction Syndrome
Multiple Sclerosis
Muscular Dystrophy
Musculoskeletal Trauma
Myasthenia Gravis
Myocardial Infarction
Myocarditis
N
Nephrotic Syndrome
Neurogenic Bladder
O
Osteomyelitis
Osteoporosis
Otitis Media
Ovarian Cancer
P
Paget's Disease
Pancreatic Cancer
Pancreatitis
Parkinson's Disease
Pelvic Fractures
Pelvic Inflammatory Disease
Peptic Ulcer Disease
Pericarditis
Peritonitis
Pernicious Anemia
Pheochromocytoma
Pituitary Tumor
Placenta Previa
Pneumocystis carinii Pneumonia
Pneumonia
Pneumothorax
Polycystic Kidney Disease
Polycythemia
Postpartum Hemorrhage
Preeclampsia
Premature Rupture of Membranes
Pressure Ulcer
Preterm Labor
Prostate Cancer
Prostatitis
Psychoactive Substance Abuse
Pulmonary Embolism
Pulmonary Fibrosis
Pulmonary Hypertension
Pyelonephritis
R
Renal Failure, Acute
Renal Failure, Chronic
Retinal Detachment
Rheumatic Fever, Acute
Rheumatoid Arthritis
Rocky Mountain Spotted Fever
S
Salmonella Infection (Salmonellosis)
Sarcoidosis
Septic Shock
Sickle Cell Disease
Sjögren's Syndrome
Skin Cancer
Spinal Cord Injury
Subarachnoid Hemorrhage
Subdural Hematoma
Sudden Infant Death Syndrome
Syndrome of Inappropriate Antidiuretic Hormone (SIADH)
Syphilis
T
Tendinitis
Testicular Cancer
Tetanus
Thoracic Aortic Aneurysm
Thrombophlebitis
Thyroid Cancer
Tonsillitis
Toxoplasmosis
Tuberculosis
U
Ulcerative Colitis
Urinary Tract Infection
Urinary Tract Trauma
Uterine Cancer
V
Vaginal Cancer
Vaginitis
Varicose Veins
Ventricular Dysrhythmias
Volvulus
Selected Bibliography
Topics within this title:
Air Embolism
Allergic Purpura
Anaphylaxis
Aneurysm
Aplastic Anemia
Arteriosclerosis
Asthma
Atelectasis
Basal Cell Carcinoma
Bladder Cancer
Bone Cancer
Botulism
Brain Cancer
Breast Cancer
Bronchiolitis
Bronchitis
Burns
Calculi
Calculi, Renal
Cancer
Candidiasis
Carcinoma
Cardiac Tamponade
Cardiogenic Shock
Cardiomyopathy
Cataract
Cerebral Aneurysm
Cerebral Concussion
Cervical Cancer
Cholecystitis
Cholelithiasis
Chorioamnionitis
Cirrhosis
Cleft Lip
Colitis
Colorectal Cancer
Contusion
Cor Pulmonale
Croup
Cystic Fibrosis
Cystitis
Cystocele
Diabetes
Diabetes Insipidus
Diabetes Mellitus
Diffuse Axonal Injury
Dislocation
Diverticula
DJD
Ectopic Pregnancy
Embolism
Emphysema
Encephalitis
Endocarditis
Endometriosis
Epididymitis
epidural
Epilepsy
Esophageal Cancer
Fat Embolism
Fatigue
Fever
Fibrosis
Fistula
Fractures
Gastric Cancer
Gastritis
Gastroenteritis
GERD
Glaucoma
Glomerulonephritis
Goiter
Gonorrhea
Gunshot Wound
Headache
Hematoma
Hemophilia
Hemorrhage
Hemorrhagic Shock
Hemorrhoids
Hemothorax
Hepatitis
Hernia
Herniated Disk
Herpes Simplex
Herpes Zoster
Hydronephrosis
Hypercalcemia
Hyperglycemia
Hyperkalemia
Hyperlipoproteinemia
Hypernatremia
Hyperparathyroidism
Hyperplasia
Hypertension
Hyperthyroidism
Hypertrophy
Hypocalcemia
Hypoglycemia
Hypokalemia
Hyponatremia
Hypoparathyroidism
Hypophosphatemia
Hypothyroidism
Hypovolemic
Infarction
Influenza
Inguinal Hernia
Intestinal Obstruction
Intoxication
Intussusception
Iron Deficiency Anemia
Kidney Cancer
Kidney Disease
Laryngeal Cancer
Lateral Sclerosis
Leukemia
Liver Failure
Lung Cancer
Lupus
Lyme Disease
Lymphoma
Mastitis
Melanoma
Meningitis
Migraine
Migraine Headache
Mitral Insufficiency
Mitral Stenosis
Moniliasis
Multiple Myeloma
Multiple Sclerosis
Myasthenia Gravis
Myocardial Infarction
Myocarditis
Nephrotic Syndrome
Neurogenic Bladder
Osteomyelitis
Osteoporosis
Otitis
Otitis Media
Ovarian Cancer
Pancreatic Cancer
Pancreatitis
Pelvic inflammatory disease
Peptic Ulcer
Pericarditis
Peritonitis
Pernicious Anemia
Pheochromocytoma
Pituitary Tumor
Placenta Previa
Pneumonia
Pneumothorax
Polycystic Kidney
Polycystic Kidney Disease
Polycythemia
Postpartum Hemorrhage
Preeclampsia
Pressure Ulcer
Prostate Cancer
Prostatitis
Pulmonary Embolism
Pulmonary Fibrosis
Purpura
Pyelonephritis
Rectocele
Renal Failure
Renal Failure, Acute
Respiratory Acidosis
Retinal Detachment
Rheumatic Fever
Rupture
Salmonellosis
Sarcoidosis
Sclerosis
Septic Shock
Shingles
Shock
SIADH
Skin Cancer
Spinal Cord Injury
Stenosis
Subdural Hematoma
Substance Abuse
Sudden Infant Death
Syndrome
Syphilis
Tendinitis
Testicular Cancer
Tetanus
Thrombocytopenia
Thrombophlebitis
Thyroid Cancer
Tonsillitis
Toxoplasmosis
Trauma
Tuberculosis
Tumor
Ulcer
Ulcerative Colitis
Urinary Tract Infection
Uterine Bleeding
Uterine Cancer
Vaginal Cancer
Vaginitis
Varicose Veins
Virus
Volvulus
Zoster