THE CLINICAL PRACTICE OF NEUROLOGICAL AND NEUROSURGICAL NURSING This title has been archived.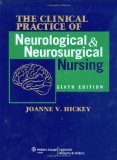 Author: Joanne Hickey, PhD, RN, ACNP-BC, CNRN, FAAN, FCCM
Affiliation: University of Texas Health Science Center, Houston
Publisher: Lippincott Williams & Wilkins
Publication Date: 2009
ISBN 10: 078179529X
ISBN 13: 9780781795296
eISBN: 9781469866642
Edition: 6th

Description:
The new Sixth Edition of this award-winning classic prepares its users for delivering expert care in this most challenging nursing specialty. It addresses neuroanatomy, assessment, diagnostic evaluation, and management of the complete range of neurological disorders for which nurses provide patient care, including trauma, stroke, tumors, seizures, headache, aneurysms, infections, degenerative disorders, and peripheral neuropathies. This edition has been thoroughly revised to reflect standards of care based on evidence-based practice. It now includes case studies, community nursing sections throughout, and increased coverage of normal pressure hydrocephalus, inflammatory demyelinating polyneuropathy, and Creutzfeld-Jacob disease.
Related Titles