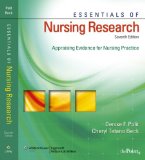 Author: Denise Polit, PhD, Cheryl Beck, DNSc, CNM, FAAN
Affiliation:
Publisher: Lippincott Williams & Wilkins
Publication Date: 2010
ISBN 10: 0781781531
ISBN 13: 9780781781534
eISBN: 9781469866352
Edition: 7th

Description:
A winner of the American Journal of Nursing Book of the Year award, this introductory nursing research text focuses on how to read, understand, analyze, and evaluate research for utilization in clinical practice. Acclaimed for its readability, clear presentation, and balanced coverage of quantitative and qualitative nursing research, the Fifth Edition provides in-depth research utilization and utilization models in current practice. Features include fictitious and real in-text research examples, detailed, "how-to" nursing research information, and guidelines for critiquing research reports. Research examples at the end of each chapter help students apply critiquing guidelines in practice.
Related Titles