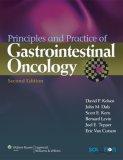 Author: David Kelsen, MD, John Daly, MD, Scott Kern, MD, Bernard Levin, MD, Joel Tepper, MD, Eric Cutsem, MD, PhD
Affiliation: Weill Medical College of Cornell University & Memorial Sloan-Kettering Cancer Center
Publisher: Lippincott Williams & Wilkins
Publication Date: 2008
ISBN 10: 0781776171
ISBN 13: 9780781776172
eISBN: 9781469867298
Edition: 2nd

Description:
Thoroughly updated for its Second Edition, this text provides comprehensive, interdisciplinary coverage of gastrointestinal cancer, including molecular biology, diagnosis, medical, surgical, and radiation therapy, and palliative care. The initial section, Principles of Gastrointestinal Oncology, includes an expanded radiation oncology chapter, an extensively revised cancer genetics chapter, and a completely rewritten medical oncology chapter emphasizing new agents. Subsequent sections focus on esophageal, gastric, pancreatic, hepatocellular, biliary tree, and colorectal cancer. Coverage of each anatomic site includes epidemiology, screening, and prevention; molecular biology and genetics; pathology; anatomy and staging; and clinical management. The final section on uncommon cancers includes new chapters on neuroendocrine tumors and small bowel cancers.
Related Titles