HISTOLOGY A TEXT AND ATLAS WITH CORRELATED CELL AND MOLECULAR BIOLOGY This title has been archived.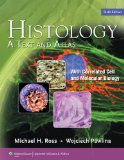 Author: Michael Ross, PhD (deceased), Wojciech Pawlina, MD
Affiliation: University of Florida College of Medicine, Gainesville
Publisher: Lippincott Williams & Wilkins
Publication Date: 2011
ISBN 10: 0781772001
ISBN 13: 9780781772006
eISBN: 9781469800172
Edition: 6th

Description:
Now in its revised, updated Sixth Edition, Histology: A Text and Atlas is the perfect text for medical, health professions, and undergraduate biology students. This best-selling combination text and atlas includes a detailed textbook description that emphasizes clinical and functional correlates of histology, fully supplemented by vividly informative illustrations and photographs. Separate, superbly illustrated atlas sections follow almost every chapter and feature large-size, full-color digital micrographs, with labels and legends that highlight details of microanatomy. For this edition, approximately 20 percent of the micrographs have been replaced with new, sharper, enhanced images. One third of the illustrations have been redrawn in a new style.
Related Titles