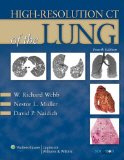 Table of Contents Available
This title has been archived.
Author: W. Webb, MD, Nestor Müller, MD, PhD, David Naidich, MD
Affiliation: University of California, San Francisco
Publisher: Lippincott Williams & Wilkins
Publication Date: 2009
ISBN 10: 0781769094
ISBN 13: 9780781769099
eISBN: 9781469867328
Edition: 4th
Description:
The thoroughly revised Fourth Edition of this widely acclaimed volume explains how to use the newest high-resolution CT technology to detect and diagnose lung abnormalities. Still the only complete text on the topic, this compact, affordable reference is written by the foremost experts and provides cutting-edge technical and clinical information. It includes state-of-the-art HRCT scans of interstitial lung diseases and differential diagnosis tables summarizing the most helpful diagnostic features of interstitial and airspace diseases.
Table of Contents
Front Matter
ABOUT
DEDICATION
Preface
Preface to the First Edition
Acknowledgments
Quick Reference Guide
1: Technical Aspects of High-Resolution Computed Tomography
CHAPTER OUTLINE
HIGH-RESOLUTION COMPUTED TOMOGRAPHY: FUNDAMENTAL TECHNIQUES
TECHNIQUES OF SCAN ACQUISITION: SPACED AXIAL SCANS VERSUS VOLUMETRIC SCANNING
RADIATION DOSE
EXPIRATORY HIGH-RESOLUTION COMPUTED TOMOGRAPHY
ADDITIONAL TECHNICAL MODIFICATIONS
IMAGE DISPLAY
HIGH-RESOLUTION COMPUTED TOMOGRAPHY PROTOCOLS
SPATIAL RESOLUTION OF HIGH-RESOLUTION COMPUTED TOMOGRAPHY
HIGH-RESOLUTION COMPUTED TOMOGRAPHY ARTIFACTS
REFERENCES
2: Normal Lung Anatomy
CHAPTER OUTLINE
THE LUNG INTERSTITIUM
LARGE BRONCHI AND ARTERIES
THE SECONDARY PULMONARY LOBULE AND LUNG ACINUS
ANATOMY OF THE SECONDARY LOBULE AND ITS COMPONENTS
THE CONCEPT OF CORTICAL AND MEDULLARY LUNG
SUBPLEURAL INTERSTITIUM AND PLEURAL SURFACES
NORMAL LUNG ATTENUATION
NORMAL EXPIRATORY HIGH- RESOLUTION COMPUTED TOMOGRAPHY
REFERENCES
3: High-Resolution Computed Tomography Findings of Lung Disease
CHAPTER OUTLINE
LINEAR AND RETICULAR OPACITIES
NODULES AND NODULAR OPACITIES
PARENCHYMAL OPACIFICATION
LUNG CYSTS, EMPHYSEMA, AND BRONCHIECTASIS
MOSAIC PERFUSION AND MOSAIC ATTENUATION
AIR TRAPPING ON EXPIRATION
DISTRIBUTION OF PARENCHYMAL ABNORMALITIES IN THE DIAGNOSIS OF LUNG DISEASE
REFERENCES
4: The Idiopathic Interstitial Pneumonias, Part I: Usual Interstitial Pneumonia/Idiopathic Pulmonary Fibrosis and Nonspecific Interstitial Pneumonia
CHAPTER OUTLINE
IDIOPATHIC INTERSTITIAL PNEUMONIAS
USUAL INTERSTITIAL PNEUMONIA AND IDIOPATHIC PULMONARY FIBROSIS
NONSPECIFIC INTERSTITIAL PNEUMONIA
REFERENCES
5: The Idiopathic Interstitial Pneumonias, Part II: Cryptogenic Organizing Pneumonia (Idiopathic BOOP), Respiratory Bronchiolitis-Interstitial Lung Disease, Desquamative Interstitial Pneumonia, Acute Interstitial Pneumonia, and Lymphocytic Interstitial Pneumonia
CHAPTER OUTLINE
CRYPTOGENIC ORGANIZING PNEUMONIA (BRONCHIOLITIS OBLITERANS ORGANIZING PNEUMONIA)
ACUTE INTERSTITIAL PNEUMONIA
RESPIRATORY BRONCHIOLITIS AND RESPIRATORY BRONCHIOLITIS- INTERSTITIAL LUNG DISEASE
DESQUAMATIVE INTERSTITIAL PNEUMONIA
LYMPHOCYTIC INTERSTITIAL PNEUMONIA
REFERENCES
6: Collagen Vascular Diseases
CHAPTER OUTLINE
RHEUMATOID ARTHRITIS
PROGRESSIVE SYSTEMIC SCLEROSIS (SCLERODERMA)
SYSTEMIC LUPUS ERYTHEMATOSUS
POLYMYOSITIS-DERMATOMYOSITIS
MIXED CONNECTIVE TISSUE DISEASE
SJÖGREN SYNDROME
ANKYLOSING SPONDYLITIS
REFERENCES
7: Diffuse Pulmonary Neoplasms and Pulmonary Lymphoproliferative Diseases
CHAPTER OUTLINE
PULMONARY LYMPHANGITIC CARCINOMATOSIS
HEMATOGENOUS METASTASES
DIFFUSE BRONCHIOLOALVEOLAR CARCINOMA
KAPOSI SARCOMA
LYMPHOPROLIFERATIVE DISORDERS, LYMPHOMA, AND LEUKEMIA
REFERENCES
8: Sarcoidosis
CHAPTER OUTLINE
PATHOLOGICAL FINDINGS
RADIOGRAPHIC FINDINGS
HIGH-RESOLUTION COMPUTED TOMOGRAPHY FINDINGS
UTILITY OF HIGH-RESOLUTION COMPUTED TOMOGRAPHY
ASSOCIATED CONDITIONS AND SARCOIDLIKE REACTIONS
DIFFERENTIAL DIAGNOSIS
REFERENCES
9: Pneumoconiosis, Occupational, and Environmental Lung Disease
CHAPTER OUTLINE
ASBESTOSIS AND ASBESTOS-RELATED DISEASE
SILICOSIS
COAL WORKER'S PNEUMOCONIOSIS
GRAPHITE WORKER'S PNEUMOCONIOSIS
MIXED DUST PNEUMONOCONIOSIS
TALCOSIS
ALUMINUM DUST PNEUMOCONIOSIS
HARD METAL PNEUMOCONIOSIS
BERYLLIUM DISEASE (BERYLLIOSIS)
INERT DUST PNEUMONCONIOSIS
WELDER'S PNEUMOCONIOSIS (SIDEROSIS)
INDIUM EXPOSURE
FLOCK WORKER'S LUNG
CHEMICAL PNEUMONITIS AND SMOKE INHALATION
BIOMASS FUEL EXPOSURE
REFERENCES
10: Hypersensitivity Pneumonitis and Eosinophilic Lung Diseases
CHAPTER OUTLINE
HYPERSENSITIVITY PNEUMONITIS
EOSINOPHILIC LUNG DISEASE
IDIOPATHIC EOSINOPHILIC LUNG DISEASE
EOSINOPHILIC LUNG DISEASE OF SPECIFIC ETIOLOGY
REFERENCES
11: Drug-Induced Lung Diseases and Radiation Pneumonitis
CHAPTER OUTLINE
DRUG-INDUCED LUNG DISEASE
RADIATION-INDUCED LUNG DISEASE
REFERENCES
12: Cystic Lung Disease and Emphysema
CHAPTER OUTLINE
PULMONARY LANGERHANS CELL HISTIOCYTOSIS
LYMPHANGIOMYOMATOSIS
EMPHYSEMA
REFERENCES
13: Infections
CHAPTER OUTLINE
TUBERCULOSIS
TUBERCULOSIS IN THE HIV-POSITIVE PATIENT
NONTUBERCULOUS MYCOBACTERIAL INFECTIONS
NONTUBERCULOUS MYCOBACTERIAL INFECTION IN THE HIV-POSITIVE PATIENT
MILIARY BACILLE CALMETTE-GUÉRIN
MYCOPLASMA PNEUMONIAE PNEUMONIA
BRONCHOPNEUMONIA
OPPORTUNISTIC INFECTIONS
ASPERGILLUS- RELATED LUNG DISEASE
FUNGAL INFECTIONS OTHER THAN ASPERGILLOSIS
SEPTIC EMBOLISM AND INFARCTION
REFERENCES
14: Diffuse Pulmonary Hemorrhage, Pulmonary Edema, and Acute Respiratory Distress Syndrome
CHAPTER OUTLINE
DIFFUSE PULMONARY HEMORRHAGE
PULMONARY EDEMA
ACUTE RESPIRATORY DISTRESS SYNDROME AND DIFFUSE ALVEOLAR DAMAGE
REFERENCES
15: Miscellaneous Infiltrative Lung Diseases
CHAPTER OUTLINE
PULMONARY ALVEOLAR PROTEINOSIS
LIPOID PNEUMONIA
AMYLOIDOSIS
PULMONARY ALVEOLAR MICROLITHIASIS
REFERENCES
16: Airways Diseases
CHAPTER OUTLINE
BRONCHIECTASIS
DISEASES ASSOCIATED WITH BRONCHIECTASIS
BRONCHIOLITIS
DISEASES ASSOCIATED WITH BRONCHIOLITIS
REFERENCES
17: Pulmonary Hypertension and Pulmonary Vascular Disease
CHAPTER OUTLINE
HIGH-RESOLUTION COMPUTED TOMOGRAPHY FINDINGS OF PULMONARY VASCULAR DISEASE
DISEASES ASSOCIATED WITH PULMONARY HYPERTENSION
HEPATOPULMONARY SYNDROME
PULMONARY VASCULITIS
REFERENCES
18: Illustrated Glossary of High-Resolution Computed Tomography Terms
Acinar Shadow (Acinar Nodule)
Acinus
Air Bronchogram
Air Crescent Sign
Air Space
Air-Space Consolidation
Air-Space Nodule
Air Trapping
Architectural Distortion
Atelectasis
Atoll Sign
Band
Beaded Septum Sign
Bleb
Bronchiectasis
Bronchiole
Bronchiolar Impaction
Bronchiolectasis
Bronchiolitis
Bronchocentric
Bronchovascular Bundle
Bulla
Bullous Emphysema
Centrilobular
Centrilobular Emphysema
Centrilobular Interstitial Thickening
Centrilobular Interstitium
Centrilobular Structures
Conglomerate Mass
Consolidation
Crazy Paving
Cyst
Cystic Air Space
Dependent Increased Attenuation
Dependent Opacity
Distal Acinar Emphysema
Dynamic Expiratory High-Resolution Computed Tomography
Emphysema
End-Stage Lung
Expiratory High-Resolution Computed Tomography
Ground-Glass Attenuation
Ground-Glass Opacity
Halo Sign
Headcheese Sign
High-Resolution Computed Tomography
Honeycomb Cysts
Honeycombing
Interface Sign
Interlobular Septal Thickening
Interlobular Septum
Interstitial Nodule
Interstitium
Intralobular Interstitial Thickening
Intralobular Interstitium
Intralobular Lines
Irregular Air-Space Enlargement
Irregular Linear Opacity
Linear Opacity
Lobular Core
Lobular Core Structures
Lobule
Low-Dose High-Resolution Computed Tomography
Lung Cyst
Mass
Micronodule
Midlung Window
Mosaic Attenuation Pattern
Mosaic Oligemia
Mosaic Perfusion
Nodule
Opacification
Opacity
Panacinar Emphysema
Panlobular Emphysema
Paraseptal Emphysema
Parenchymal Band
Parenchymal Opacification
Peribronchovascular Interstitial Thickening
Peribronchovascular Interstitium
Perilobular
Perilymphatic
Peripheral
Pneumatocele
Pseudoplaques
Pulmonary Lobule
Random Distribution
Respiratory Bronchiole
Reticular Pattern
Reticulation
Reversed Halo Sign
Secondary Pulmonary Lobule
Septal Line
Septal Thickening
Septum
Signet Ring Sign
Small Airways
Small Airways Disease
Subpleural
Subpleural Interstitial Thickening
Subpleural Interstitium
Subpleural Line
Targeted Reconstruction
Terminal Bronchiole
Traction Bronchiectasis
Traction Bronchiolectasis
Tree-in-Bud Sign
REFERENCES
Topics within this title:
Abnormalities
Adenocarcinoma
Amyloidosis
Ankylosing Spondylitis
Antibody
Arthritis
Asbestosis
Aspergillosis
B-Cell Lymphoma
Berylliosis
Beryllium Disease
Bronchiectasis
Bronchiolitis
Bronchiolitis Obliterans
Bronchopneumonia
Bronchopulmonary Aspergillosis
Carcinoma
Carcinomatosis
Churg-Strauss Syndrome
Computed tomography
Connective Tissue Disease
Cystic Fibrosis
Cysts
Dermatomyositis
Edema
Embolism
Emphysema
Eosinophilic Pneumonia
Fibrosis
Hemorrhage
Hepatopulmonary Syndrome
Histiocytosis
HIV
Hypereosinophilic Syndrome
Hypersensitivity
Hypersensitivity Pneumonitis
Hypertension
Infarction
Interstitial Lung Disease
Interstitial Pneumonia
Interstitial Pneumonias
Kaposi Sarcoma
Leukemia
Lung Disease
Lung Diseases
Lupus
Lymphangiomyomatosis
Lymphoma
Lymphoproliferative Disorder
Lymphoproliferative Disorders
MALT Lymphoma
Metastases
Mixed Connective Tissue Disease
Neoplasms
Opportunistic Infections
Pleural Disease
Pneumoconiosis
Pneumonia
Pneumonias
Pneumonitis
Polymyositis
Progressive Systemic Sclerosis
Pulmonary Alveolar Proteinosis
Pulmonary Edema
Pulmonary Fibrosis
Pulmonary Hypertension
Pulmonary Neoplasms
Pulmonary Thromboembolism
Radiation Pneumonitis
Rheumatoid Arthritis
Sarcoidosis
Sarcoma
Sclerosis
Silicosis
Spondylitis
Syndrome
Systemic Lupus Erythematosus
Systemic Sclerosis
Thromboembolism
Tuberculosis
Vascular Disease
Vasculitis
Wegener Granulomatosis