PEREZ AND BRADY'S PRINCIPLES AND PRACTICE OF RADIATION ONCOLOGY This title has been archived.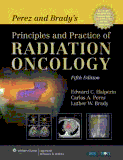 Author: Edward Halperin, MD, MA, Carlos Perez, MD, Luther Brady, M.D.
Affiliation: University of Louisville, KY
Publisher: Lippincott Williams & Wilkins
Publication Date: 2008
ISBN 10: 078176369X
ISBN 13: 9780781763691
eISBN: 9781469867649
Edition: 5th

Description:
The thoroughly updated Fifth Edition of this landmark work has been completely overhauled to better represent the rapidly changing field of radiation oncology. This comprehensive textbook provides an understanding of every aspect of radiation oncology; the natural history of cancer, the physical methods of radiation application, the effects of irradiation on normal tissues, and site-specific applications of radiation therapy either as a single modality or as part of a multimodality treatment program. This edition places greater emphasis on use of radiation oncology in palliative and supportive care as well as therapy.
Related Titles