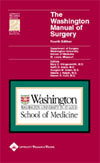 Author: Mary Klingensmith, MD, Keith Amos, MD, Valerie Halpin, MD, Steven Hunt, MD, Timothy Eberlein, MD
Affiliation: Washington University, St. Louis, MO
Publisher: Lippincott Williams & Wilkins
Publication Date: 2005
ISBN 10: 0781750482
ISBN 13: 9780781750486
Edition: 4th

Description:
Prepared by residents and faculty of one of the world's top surgical training programs, The Washington Manual of Surgery, Fourth Edition provides reliable guidelines and algorithms for management of surgical diseases. This new edition features expanded sections on endovascular surgical techniques and bariatric surgery and increased coverage of minimally invasive surgery for pediatric patients. The breast cancer and breast diseases section includes updates on treatment and new diagnostic techniques such as ductoscopy and MRI. All chapters have been updated and rewritten to reflect the most current standards of practice.
Related Titles