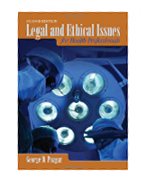 Author: George Pozgar, MBA, CHE
Affiliation:
Publisher: Jones & Bartlett Learning
Publication Date: 2010
ISBN 10: 0763764736
ISBN 13: 9780763764739
eISBN: 9780763790509
Edition: 2nd

Description:
Legal And Ethical Issues For Health Professionals Is A Concise And Practical Guide To Legal And Ethical Dilemmas Facing Health Care Professionals Today. This Book Will Help The Reader To Better Understand The Issues They Will Face On The Job And Its Implications In The Legal Arena. This Text Presents Contemporary Topics With A Real World Perspective And Allows The Student To Develop Critical Thinking Skills.
Related Titles