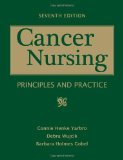 Author: Connie Yarbro, MS, RN, FAAN, Debra Wujcik, PhD, RN, AOCN®, Barbara Gobel, MS, RN, AOCN®
Affiliation: Adjunct Clinical Professor, University of Missouri Sinclair School of Nursing, Columbia, Missouri, Editor, Seminars in Oncology Nursing
Publisher: Jones & Bartlett Learning
Publication Date: 2011
ISBN 10: 0763763578
ISBN 13: 9780763763572
eISBN: 9781449618292
Edition: 7th

Description:
A new and revised version of this best-selling reference! For over eighteen years, best-selling Cancer Nursing: Principles and Practice has provided oncology nurses with the latest information on new trends in the rapidly changing science of oncology. Now, in its Seventh Edition, Cancer Nursing has been completely revised and updated to reflect key new developments. New topics covered include targeted therapy, hypersensitivity reactions, mucositis, and family and caregiver issues. With 27 new chapters featuring insights from key authors, the Seventh Edition is a must-have resource for every oncology nurse.
Related Titles