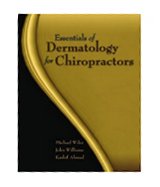 Author: Michael Wiles, MEd, DC, FCCS(C), Jonathan Williams, MEd, DC, DABCI, Kashif Ahmad, MBBS, MS, PhD
Affiliation: Dean, College of Chiropractic, Northwestern Health Sciences University
Publisher: Jones & Bartlett Learning
Publication Date: 2011
ISBN 10: 0763761575
ISBN 13: 9780763761578
eISBN: 9781449611392
Edition: 1st

Description:
Essentials Of Dermatology For Chiropractors Is A Full-Color Reference On General Dermatology For Chiropractors And Chiropractic Students. With Over 200 Full-Color Photos And Illustrations It Is Also A Valuable Resource For Understanding The Natural And Complementary Treatments Available For Many Common Skin Disorders. Including A Completely Cross-Referenced Listing Of Conditions And Treatments, This Text Is An Ideal Source Of Relevant Dermatological Information For Chiropractic College Dermatology Instructors, Chiropractic Students, And Practicing Chiropractors.
Related Titles