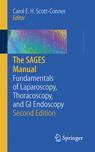 Author: David Rattner, MD
Affiliation: University of Iowa Hospitals and Clinics, Iowa City
Publisher: Springer Nature
Publication Date: 2006
ISBN 10: 0387232672
ISBN 13: 9780387232676
Edition: 2nd

Description:
THE SAGES MANUAL: FUNDAMENTALS OF LAPAROSCOPY AND GI ENDOSCOPY is a classic in the making--a portable, concise, beautifully illustrated manual from the world's pioneering society of minimally invasive surgery. This book provides an authoritative synopsis of the major laparoscopic and endoscopic procedures in easy-to-use, outline form. It is an absolutely must have reference for the general surgery resident on call or as a refresher before procedures. The laparoscopic section reviews the important basics of laparoscopic surgery, including equipment set up, access to the abdomen, generating and maintaining the working space, and the principles of laparoscopic hemostasis. All the major and emerging laparoscopic general surgery procedures are included and information on indications, patient preparation and position, and the step-by-step operative technique are featured for each operation. Topics include laparoscopic cholecystectomy, laparoscopic gastric surgery, diagnostic laparoscopy and biopsy, laparoscopic common bile duct exploration, laparoscopic hernia repair, and pediatric laparoscopy. The endoscopic section reviews gastrointestinal endoscopy for the general surgeon. A review of the general principles of flexible endoscopy features attributes of flexible scopes, equipment set up, scope handling and care of scopes, conscious sedation and monitoring, and post procedure management. Indications, patient preparation, and techniques are outlined for a wide variety of procedures including upper gastrointestinal endoscopy, small bowel enteroscopy, endoscopic retrograde cholangiopancreatography, choledochoscopy, flexible sigmoidoscopy, colonoscopy, and pediatric endoscopy. Every laparoscopic and endoscopic procedure is followed by a section on the recognition and management of complications--a must-read resource for all general surgery residents and fellows. Over 175 illustrations elucidate the operative procedures, clearly indicate trocar placement, and explain the operative steps.
Related Titles