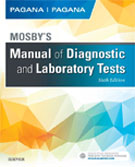 Author: Kathleen Pagana, PhD, RN, Timothy Pagana, MD, FACS
Affiliation:
Publisher: Elsevier Health Sciences
Publication Date: 2018
ISBN 10: 0323446639
ISBN 13: 9780323446631
eISBN: 9780323446648
Edition: 6th

Description:
Writing care plans, understanding and performing tests, and interpreting test results is made easier with Mosby's Manual of Diagnostic and Laboratory Tests, 6th Edition. This essential resource provides clear, concise overage of over 700 of the most commonly performed diagnostic and laboratory tests. Valuable in academic and clinical settings alike, it is beloved for its full-color design, user-friendly organization, and illustrations that help clarify keep concepts. Updated and streamlined content with new tests ensures you have the most relevant information. A new Diagnostic Testing for the Most Common Diseases section highlights the integration of medical testing as it relates to the top diseases or clinical syndromes.
Related Titles