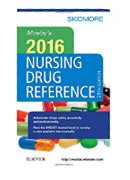 Author: Linda Skidmore-Roth, RN, MSN, NP
Affiliation:
Publisher: Elsevier Health Sciences
Publication Date: 2016
ISBN 10: 0323370241
ISBN 13: 9780323370240
eISBN: 9780323370363
Edition: 29th

Description:
Choose the drug handbook trusted for nearly 30 years! The newest edition of a series that has been trusted by nurses for nearly 30 years, Mosby's 2016 Nursing Drug Reference makes it easy to find the most vital information on the drugs you administer most frequently. More than 5,000 drugs are profiled - including 20 new entries for drugs recently approved by the FDA. And no other drug guide places a higher emphasis on patient safety, with Black Box Warnings for dangerous adverse reactions, highlighting of common and life-threatening side effects, and Safety Alert icons for situations requiring special attention. From nursing pharmacology expert Linda Skidmore-Roth, this perennial bestseller proves there is a difference in drug guides. ... 20 NEW monographs provide up-to-date content on newly released drugs.
Related Titles