Henry's Clinical Diagnosis and Management by Laboratory Methods This title has been archived.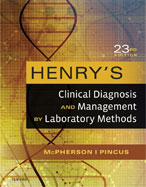 Author: Richard McPherson, MD, MSc, Matthew Pincus, MD, PhD
Affiliation:
Publisher: Elsevier Health Sciences
Publication Date: 2017
ISBN 10: 0323295681
ISBN 13: 9780323295680
eISBN: 9780323413152
Edition: 23rd

Description:
Recognized as the definitive reference in laboratory medicine since 1908, Henry's Clinical Diagnosis continues to offer state-of-the-art guidance on the scientific foundation and clinical application of today's complete range of laboratory tests. Employing a multidisciplinary approach, it presents the newest information available in the field, including new developments in technologies and the automation platforms on which measurements are performed. Expert Consult eBook version included with purchase. This enhanced eBook experience allows you to search all of the text, figures, images, and references from the book on a variety of devices. Coverage of today's hottest topics includes advances in transfusion medicine and organ transplantation; molecular diagnostics in microbiology and infectious diseases; point-of-care testing; pharmacogenomics; and the microbiome. Toxicology and Therapeutic Drug Monitoring chapter discusses the necessity of testing for therapeutic drugs that are more frequently being abused by users.
Related Titles