Laboratory Tests and Diagnostic Procedures with Nursing Diagnoses This title has been archived.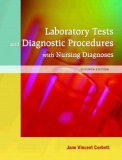 Author: Jane Corbett, RN, EdD
Affiliation: University of San Francisco
Publisher: Pearson Health Science
Publication Date: 2008
ISBN 10: 0131597000
ISBN 13: 9780131597006
Edition: 7th

Description:
Written by a highly respected author in the lab and diagnostic test field, this reference explains in detail the clinical significance of tests and diagnostic procedures. Its comprehensive coverage is augmented by a strong emphasis on nursing care as applied to lab and diagnostic tests, and on the relationship between nursing diagnoses and nursing care. Both scholarly and practical, it is ideal for use in both classroom and clinical settings. Each chapter is organized as an independent study unit-complete with objectives, an organizing theme with background information (called an expository organizer), and test questions. Topics addressed include using laboratory data, a complete series of tests including Hematology, Routine Urinalysis and Renal Function Tests, Commonly Measured Electrolytes, Arterial Blood Gases, Tests to Measure the Metabolism of Glucose, Lipid Metabolism and Other Cardiac Risk Factors, Bilirubin, Tests to Measure Enzymes and Cardiac Markers, Serologic, Endocrine and Culture and Sensitivity Tests and more. Plus case studies.
Related Titles