2017-2018 Perianesthesia Nursing Standards, Practice Recommendations and Interpretive Statements This title has been archived.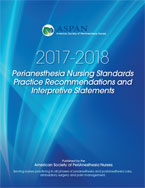 Author: ASPAN
Affiliation:
Publisher: American Society of PeriAnesthesia Nurses
Publication Date: 2016
ISBN 10: 0017688337
ISBN 13: 9780017688330
Edition: 1st

Description:
The 2017-2018 edition of the ASPAN Standards contains principles of safety and ethics in perianesthesia practice, perianesthesia practice standards, practice recommendations, position statements, resources from partnering organizations and interpretive statements which provide clarity and definition to key elements of the standards. New content in this publication includes an updates to the practice recommendation for care of the adult patient with obstructive sleep apnea, as well as the prevention of unwanted sedation in the adult patient. New position statements include a position statement on alarm management, a position statement on acuity based staffing for Phase I and a position statement on air quality and occupational hazard exposure prevention. A new resource has been added to provide guidance for a perianesthesia orientation timeline.
Related Titles