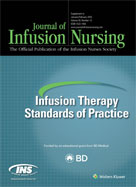 Author: Lisa Gorski, MS, RN, HHCNS-BC, CRNI®, FAAN, Lynn Hadaway, MEd, RN-BC, CRNI®, Mary Hagle, PhD, RN-BC, FAAN, Mary McGoldrick, MS, RN, CRNI®, Marsha Orr, MS, RN, Darcy Doellman, MSN, RN, CRNI®, VA-BC
Affiliation:
Publisher: Infusion Nurses Society
Publication Date: 2016
ISBN 10: 000016612X
ISBN 13: 9780000166128
eISBN: 9780000166142
Edition: 1st

Description:
INS' most recognized publication, the Infusion Therapy Standards of Practice has long provided the framework that guides clinical practice. The Standards is used to define and develop organizational infusion-based policies and procedures for all practice settings. The 2016 edition is an invaluable guide with many uses in all ­practice settings. A must-have resource for anyone involved in infusion therapy.
Related Titles