Oncology Nurse Navigation: Delivering Patient-Centered Care Across the Continuum This title has been archived.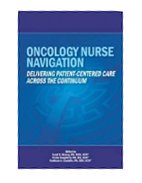 Author: Karyl Blaseg, RN, MSN, OCN®, Penny Daugherty, RN, MS, OCN®, Kathleen Gamblin, RN, BSN, OCN®
Affiliation: Billings Clinic in Montana
Publisher: Oncology Nursing Society
Publication Date: 2014
ISBN 10: 1935864351
ISBN 13: 9781935864356
eISBN: 9781935864998
Edition: 1st

Description:
Patient navigation had its inception in Harlem in 1990 as an intervention designed to diminish the exceedingly high breast cancer mortality rate in a population of poor African American women. The combined interventions of breast cancer screening and navigation from the point of abnormal finding to timely treatment increased the five-year survival rate from 39% to 70%.
Related Titles