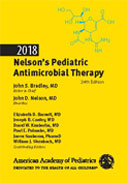 Author: John Bradley, MD
Affiliation: University of California, San Diego & Rady Children's Hospital, San Diego, CA
Publisher: American Academy of Pediatrics
Publication Date: 2018
ISBN 10: 1610021096
ISBN 13: 9781610021098
eISBN: 9781610021104
Edition: 24th

Description:
This resource on pediatric antimicrobial therapy provides instant access to reliable, up-to-the-minute recommendations for treatment of all infectious diseases in children. For each disease, the authors provide a commentary to help health care providers select the best of all antimicrobial choices. Drug descriptions cover all antimicrobial agents available today and include complete information about dosing regimens. The program also includes guidelines on when not to prescribe antimicrobials. The book is designed for those who take care of children and are faced with decisions every day.
Related Titles