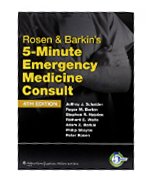 Table of Contents Available
This title has been archived.
Author: Jeffrey Schaider, MD, Roger Barkin, MD, Stephen Hayden, MD, Richard Wolfe, MD, Adam Barkin, MD, MPH, Philip Shayne, MD, FACEP, Peter Rosen, MD
Affiliation: Rush Medical College & Cook County Health and Hospital System, Chicago
Publisher: Lippincott Williams & Wilkins
Publication Date: 2011
ISBN 10: 1608316300
ISBN 13: 9781608316304
eISBN: 9781469813035
Edition: 4th
Description:
This best-selling emergency department reference is now in its thoroughly updated Fourth Edition. The foremost authorities provide practical information on over 600 clinical problems in a fast-access two-page outline format that's perfect for on-the-spot consultation during care in the emergency department. Coverage of each disorder includes clinical presentation, pre-hospital, diagnosis, treatment, disposition, and ICD-10 coding. Icons enable practitioners to quickly spot the information they need. This edition provides up-to-date information on topics such as emerging infections, new protocols, and new treatments.
Table of Contents
Front Matter
ABOUT
Preface
PREFACE
ACKNOWLEDGMENTS
CONTRIBUTORS
Preface
A
ABDOMINAL AORTIC ANEURYSM
ABDOMINAL PAIN
ABDOMINAL TRAUMA, BLUNT
ABDOMINAL TRAUMA, IMAGING
ABDOMINAL TRAUMA, PENETRATING
ABORTION, SPONTANEOUS
ABRUPTIO PLACENTAE
ABSCESS, SKIN/SOFT TISSUE
ABUSE, ELDER
ABUSE, PEDIATRIC (NONACCIDENTAL TRAUMA [NAT])
ACETAMINOPHEN POISONING
ACIDOSIS
ACROMIOCLAVICULAR JOINT INJURY
ACUTE CORONARY SYNDROME: CORONARY VASOSPASM
ACUTE CORONARY SYNDROME: DRUG-INDUCED
ACUTE CORONARY SYNDROME: MYOCARDIAL INFARCTION
ACUTE CORONARY SYNDROME: NON–Q-WAVE (NON-ST ELEVATION) MI
ACUTE CORONARY SYNDROME: STABLE ANGINA
ACUTE CORONARY SYNDROME: UNSTABLE ANGINA
ADRENAL INSUFFICIENCY
AIRWAY MANAGEMENT
ALCOHOL POISONING
ALCOHOLIC KETOACIDOSIS
ALKALOSIS
ALTERED MENTAL STATUS
AMEBIASIS
AMENORRHEA
AMPHETAMINE POISONING
AMPUTATION TRAUMATIC/REPLANTATION
AMYOTROPHIC LATERAL SCLEROSIS
ANAL FISSURE
ANAPHYLAXIS
ANEMIA
ANGIOEDEMA
ANKLE FRACTURE/DISLOCATION
ANKLE SPRAIN
ANKYLOSING SPONDYLITIS
ANTERIOR CRUCIATE LIGAMENT INJURY
ANTICHOLINERGIC POISONING
ANTIDEPRESSANT POISONING
AORTIC DISSECTION, THORACIC
AORTIC RUPTURE, TRAUMATIC (TAI)
APHTHOUS ULCERS
APNEA, PEDIATRIC
APPENDICITIS
ARSENIC POISONING
ARTERIAL GAS EMBOLISM (AGE)
ARTERIAL OCCLUSION
ARTHRITIS, DEGENERATIVE
ARTHRITIS, JUVENILE IDIOPATHIC
ARTHRITIS, MONOARTICULAR
ARTHRITIS, RHEUMATOID
ARTHRITIS, SEPTIC
ASCITES
ASTHMA, ADULT
ASTHMA, PEDIATRIC
ASYSTOLE
ATAXIA
ATRIAL FIBRILLATION
ATRIAL FLUTTER
ATRIOVENTRICULAR BLOCKS
B
BABESIOSIS
BACK PAIN
BACTERIAL TRACHEITIS
BARBITURATES POISONING
BAROTRAUMA
BARTHOLIN ABSCESS
BELL PALSY
BENZODIAZEPINE POISONING
BETA-BLOCKER POISONING
BIOLOGIC WEAPONS
BIPOLAR DISORDER
BITE, ANIMAL
BITE, HUMAN
BLADDER INJURY
BLOW-OUT FRACTURE
BOERHAAVE SYNDROME
BOTULISM
BOWEL OBSTRUCTION
BRADYARRHYTHMIAS
BRONCHIOLITIS
BRONCHITIS
BUNDLE BRANCH BLOCKS
BURNS
BURSITIS
C
CALCIUM CHANNEL BLOCKER POISONING
CANDIDIASIS, ORAL
CARBAMAZEPINE, POISONING
CARBON MONOXIDE POISONING
CARDIAC ARREST
CARDIAC PACEMAKERS
CARDIAC TESTING
CARDIAC TRANSPLANTATION COMPLICATIONS
CARDIOGENIC SHOCK
CARDIOMYOPATHY
CARDIOMYOPATHY, HYPERTROPHIC
CARDIOMYOPATHY, PERIPARTUM
CARPAL FRACTURES
CARPAL TUNNEL SYNDROME
CAUDA EQUINA SYNDROME
CAUSTIC INGESTION
CAVERNOUS SINUS THROMBOSIS
CELLULITIS
CENTRAL RETINAL ARTERY OCCLUSION
CENTRAL RETINAL VEIN OCCLUSION
CEREBRAL ANEURYSM
CEREBRAL VASCULAR ACCIDENT
CERVICAL ADENITIS
CESAREAN SECTION, EMERGENCY
CHANCROID
CHEMICAL WEAPONS POISONING
CHEST PAIN
CHEST TRAUMA, BLUNT
CHEST TRAUMA, PENETRATING
CHOLANGITIS
CHOLECYSTITIS
CHOLELITHIASIS
CHRONIC OBSTRUCTIVE PULMONARY DISEASE
CIRRHOSIS
CLAVICLE FRACTURE
COCAINE POISONING
COLON TRAUMA
COMA
COMPARTMENT SYNDROME
CONGENITAL HEART DISEASE, ACYANOTIC
CONGENITAL HEART DISEASE, CYANOTIC
CONGESTIVE HEART FAILURE
CONJUNCTIVITIS
CONSTIPATION
CONTACT DERMATITIS
COR PULMONALE
CORNEAL ABRASION
CORNEAL BURN
CORNEAL FOREIGN BODY
COUGH
CROUP
CUSHING SYNDROME
CYANIDE POISONING
CYANOSIS
CYSTIC FIBROSIS
D
DACRYOCYSTITIS AND DACRYOADENITIS
DECOMPRESSION SICKNESS
DEEP VEIN THROMBOSIS
DEFIBRILLATORS, IMPLANTABLE
DELIRIUM
DELIVERY, UNCOMPLICATED
DEMENTIA
DENGUE FEVER
DENTAL TRAUMA
DEPRESSION
DERMATOMYOSITIS/POLYMYOSITIS
DIABETES INSIPIDUS
DIABETES MELLITUS, JUVENILE
DIABETIC KETOACIDOSIS
DIALYSIS COMPLICATIONS
DIAPER RASH
DIAPHRAGMATIC TRAUMA
DIARRHEA, ADULT
DIARRHEA, PEDIATRIC
DIGOXIN, POISONING
DISSEMINATED INTRAVASCULAR COAGULATION
DISULFIRAM REACTION
DIVERTICULITIS
DIVERTICULOSIS
DIZZINESS
DOMESTIC VIOLENCE
DUODENAL TRAUMA
DYSFUNCTIONAL UTERINE BLEEDING
DYSPHAGIA
DYSPNEA
DYSTONIC REACTION
E
EATING DISORDER
ECTOPIC PREGNANCY
ECZEMA/ATOPIC DERMATITIS
EDEMA
EHRLICHIOSIS
ELBOW INJURIES
ELECTRICAL INJURY
ENCEPHALITIS
ENDOCARDITIS
ENDOMETRIOSIS
EPIDIDYMITIS/ORCHITIS
EPIDURAL ABSCESS
EPIDURAL HEMATOMA
EPIGLOTTITIS, ADULT
EPIGLOTTIS, PEDIATRIC
EPIPHYSEAL INJURIES
EPISTAXIS
ERYSIPELAS
ERYTHEMA INFECTIOSUM
ERYTHEMA MULTIFORME
ERYTHEMA NODOSUM
ESOPHAGEAL TRAUMA
ETHYLENE GLYCOL POISONING
EXTERNAL EAR CHONDRITIS/ABSCESS
EXTREMITY TRAUMA, PENETRATING
F
FACIAL FRACTURES
FAILURE TO THRIVE
FATIGUE
FEEDING PROBLEMS, PEDIATRIC
FEEDING TUBE COMPLICATIONS
FEMUR FRACTURE
FEVER, ADULT
FEVER, PEDIATRIC
FIBROCYSTIC BREAST DISEASE
FIBROMYALGIA
FLAIL CHEST
FOOT FRACTURE
FOREARM FRACTURE, SHAFT/DISTAL
FOREIGN BODY, EAR
FOREIGN BODY, ESOPHAGEAL
FOREIGN BODY, NASAL
FOREIGN BODY, RECTAL
FOURNIER GANGRENE
FRACTURE, OPEN
FRACTURES, PEDIATRIC
FROSTBITE
G
GALLSTONE ILEUS
GANGRENE
GASTRIC OUTLET OBSTRUCTION
GASTRITIS
GASTROENTERITIS
GASTROESOPHAGEAL REFLUX DISEASE
GASTROINTESTINAL BLEEDING
GHB, POISONING
GIANT CELL ARTERITIS
GIARDIASIS
GLAUCOMA
GLOBE RUPTURE
GLOMERULONEPHRITIS
GONOCOCCAL DISEASE
GOUT/PSEUDOGOUT
GRANULOCYTOPENIA
GUILLAIN-BARRÉ SYNDROME
H
HALLUCINOGEN POISONING
HAND INFECTION
HAZMAT
HEAD TRAUMA, BLUNT
HEAD TRAUMA, PENETRATING
HEADACHE
HEADACHE, CLUSTER
HEADACHE, MIGRAINE
HEART MURMUR
HELLP SYNDROME
HEMATURIA/PROTEINURIA
HEMOPHILIA
HEMOPTYSIS
HEMORRHAGIC FEVERS
HEMORRHAGIC SHOCK
HEMORRHOID
HEMOTHORAX
HENOCH SCHöNLEIN PURPURA
HEPATIC ENCEPHALOPATHY
HEPATIC INJURY
HEPATITIS
HEPATORENAL SYNDROME
HERNIA
HERPES, GENITAL
HERPES SIMPLEX
HERPES ZOSTER
HICCUPS
HIGH ALTITUDE ILLNESS
HIP INJURY
HIRSCHSPRUNG DISEASE
HIV/AIDS
HORDEOLUM AND CHALAZION
HORNER SYNDROME
HUMERUS FRACTURE
HYDATIDIFORM MOLE
HYDROCARBON POISONING
HYDROCELE
HYDROCEPHALUS
HYPERBARIC OXYGEN THERAPY
HYPERCALCEMIA
HYPEREMESIS GRAVIDARUM
HYPERKALEMIA
HYPERNATREMIA
HYPEROSMOLAR SYNDROME
HYPERPARATHYROIDISM
HYPERTENSIVE EMERGENCIES
HYPERTHERMIA
HYPERTHYROIDISM
HYPERVENTILATION
HYPERVISCOSITY SYNDROME
HYPHEMA
HYPOCALCEMIA
HYPOGLYCEMIA
HYPOGLYCEMIC AGENT POISONING
HYPOKALEMIA
HYPONATREMIA
HYPOPARATHYROIDISM
HYPOTHERMIA
HYPOTHYROIDISM
I
IDIOPATHIC THROMBOCYTOPENIC PURPURA
IMMUNIZATIONS
IMMUNOSUPPRESSION
IMPETIGO
INBORN ERRORS OF METABOLISM
INFLAMMATORY BOWEL DISEASE
INFLUENZA
INTRACEREBRAL HEMORRHAGE
INTUSSUSCEPTION
IRITIS
IRON POISONING
IRRITABLE BOWEL
IRRITABLE INFANT
IRRITANT GAS EXPOSURE
ISONIAZID POISONING
ISOPROPANOL POISONING
J
K
KAPOSI SARCOMA
KAWASAKI DISEASE
KNEE DISLOCATION
L
LABOR
LABYRINTHITIS
LACERATION MANAGEMENT
LARYNGITIS
LARYNX FRACTURE
LEAD POISONING
LEGG-CALVÉ-PERTHES DISEASE
LEUKEMIA
LIGHTNING INJURIES
LITHIUM POISONING
LUDWIG ANGINA
LUNATE DISLOCATION
LYME DISEASE
LYMPHADENITIS
LYMPHANGITIS
LYMPHOGRANULOMA VENEREUM
M
MALARIA
MALGAIGNE FRACTURE
MALLORY-WEISS SYNDROME
MALROTATION
MANDIBULAR FRACTURES
MARINE ENVENOMATION
MASTITIS
MASTOIDITIS
MDMA POISONING
MEASLES
MECKEL DIVERTICULUM
MEDIAL COLLATERAL LIGAMENT STRAIN
MEDIAL MENISCUS INJURY
MÉNIÈRE DISEASE
MENINGITIS
MENINGOCOCCEMIA
MERCURY POISONING
MESENTERIC ISCHEMIA
METACARPAL INJURIES
METHANOL POISONING
METHEMOGLOBINEMIA
MITRAL VALVE PROLAPSE
MOLLUSCUM CONTAGIOSUM
MONOAMINE OXIDASE INHIBITOR POISONING
MONONUCLEOSIS
MRSA, COMMUNITY ACQUIRED
MULTIPLE MYELOMA
MULTIPLE SCLEROSIS
MUMPS
MUNCHAUSEN SYNDROME
MUSHROOM POISONING
MYASTHENIA GRAVIS
MYOCARDIAL CONTUSION
MYOCARDITIS
N
NASAL FRACTURES
NEAR DROWNING
NECK INJURY BY STRANGULATION/HANGING
NECK TRAUMA, BLUNT, ANTERIOR
NECK TRAUMA, PENETRATING, ANTERIOR
NECROTIZING SOFT TISSUE INFECTIONS
NECROTIZING ULCERATIVE GINGIVITIS
NEEDLE STICK
NEONATAL JAUNDICE
NEONATAL SEPSIS
NEPHRITIC SYNDROME
NEPHROTIC SYNDROME
NEUROLEPTIC MALIGNANT SYNDROME
NEUROLEPTIC POISONING
NONCARDIOGENIC PULMONARY EDEMA
NONSTEROIDAL ANTI-INFLAMMATORY POISONING
NURSEMAID'S ELBOW
O
OCULOMOTOR NERVE PALSY
OPIATE POISONING
OPPORTUNISTIC INFECTION
OPTIC ARTERY OCCLUSION
OPTIC NEURITIS
ORGANOPHOSPHATE POISONING
OSGOOD-SCHLATTER DISEASE
OSTEOGENESIS IMPERFECTA
OSTEOMYELITIS
OSTEOPOROSIS
OTITIS EXTERNA
OTITIS MEDIA
OTOLOGIC TRAUMA
OVARIAN CYST/TORSION
P
PAGET DISEASE
PANCREATIC PSEUDOCYST
PANCREATIC TRAUMA
PANCREATITIS
PANIC ATTACK
PARAPHIMOSIS
PARKINSON DISEASE
PARONYCHIA
PATELLAR INJURIES
PATENT DUCTUS ARTERIOSUS
PEDIATRIC TRAUMA
PEDICULOSIS
PELVIC FRACTURE
PELVIC INFLAMMATORY DISEASE
PEMPHIGUS
PENILE SHAFT FRACTURE
PEPTIC ULCER
PERFORATED VISCOUS
PERICARDIAL EFFUSION/TAMPONADE
PERICARDITIS
PERILUNATE DISLOCATION
PERIODONTAL ABSCESS
PERIORBITAL AND ORBITAL CELLULITIS
PERIPHERAL NEUROPATHY
PERIPHERAL VASCULAR DISEASE
PERIRECTAL ABSCESS
PERITONSILLAR ABSCESS
PERTUSSIS
PHALANGEAL INJURIES, FOOT
PHALANGEAL INJURIES, HAND
PHARYNGITIS
PHENCYCLIDINE POISONING
PHENYTOIN POISONING
PHEOCHROMOCYTOMA
PHIMOSIS
PITYRIASIS ROSEA
PLACENTA PREVIA
PLANT POISONING
PLEURAL EFFUSION
PNEUMOCYSTIS CARINII PNEUMONIA
PNEUMOMEDIASTINUM
PNEUMONIA, ADULT
PNEUMONIA, PEDIATRIC
PNEUMOTHORAX
POISONING
POISONING, ANTIDOTES
POISONING, GASTRIC DECONTAMINATION
POISONING, TOXIDROMES
POLIO
POLYCYTHEMIA
POSTPARTUM HEMORRHAGE
POSTPARTUM INFECTION
PRE-ECLAMPSIA/ECLAMPSIA
PRE-EXCITATION SYNDROMES
PREGNANCY, TRAUMA IN
PREGNANCY, UNCOMPLICATED
PRIAPISM
PROCEDURAL SEDATION
PROSTATITIS
PRURITUS
PSEUDOTUMOR CEREBRI
PSORIASIS
PSYCHIATRIC COMMITMENT
PSYCHOSIS, ACUTE
PSYCHOSIS, MEDICAL VS. PSYCHIATRIC
PULMONARY CONTUSION
PULMONARY EDEMA
PULMONARY EMBOLISM
PURPURA
PYELONEPHRITIS
PYLORIC STENOSIS
Q
R
RABIES
RADIATION INJURY
RAPID SEQUENCE INTUBATION
RASH
RASH, PEDIATRIC
RECTAL PROLAPSE
RECTAL TRAUMA
RED EYE
REITER DISEASE
RENAL CALCULUS
RENAL FAILURE
RENAL INJURY
REPERFUSION THERAPY, CARDIAC
REPERFUSION THERAPY, CEREBRAL
RESPIRATORY DISTRESS
RESUSCITATION, NEONATE
RESUSCITATION, PEDIATRIC
RETINAL DETACHMENT
RETROPHARYNGEAL ABSCESS
REYE SYNDROME
RHABDOMYOLYSIS
RHEUMATIC FEVER
RIB FRACTURE
RING/CONSTRICTING BAND REMOVAL
ROCKY MOUNTAIN SPOTTED FEVER
ROSEOLA
RUBELLA
S
SACRAL FRACTURE
SALICYLATE POISONING
SARCOIDOSIS
SCABIES
SCAPHOID FRACTURE
SCHIZOPHRENIA
SCIATICA/HERNIATED DISC
SEBORRHEIC DERMATITIS
SEIZURE, ADULT
SEIZURE, FEBRILE
SEIZURE, PEDIATRIC
SEPSIS
SERUM SICKNESS
SEXUAL ASSAULT
SHOCK
SHOULDER DISLOCATION
SICK SINUS SYNDROME
SICKLE CELL DISEASE
SINUSITIS
SKIN CANCER
SLEEP APNEA
SLIPPED CAPITAL FEMORAL EPIPHYSIS
SMALL-BOWEL INJURY
SMOKE INHALATION
SNAKE ENVENOMATION
SPIDER BITE, BLACK WIDOW
SPIDER BITE, BROWN RECLUSE
SPINAL CORD SYNDROMES
SPINE INJURY: CERVICAL, ADULT
SPINE INJURY: CERVICAL, PEDIATRIC
SPINE INJURY: COCCYX
SPINAL INJURY: LUMBAR
SPINE INJURY: THORACIC
SPLENIC INJURY
SPONDYLOLYSIS/SPONDYLOLISTHESIS
SPONTANEOUS BACTERIAL PERITONITIS
SPOROTRICHOSIS
STAPHYLOCOCCAL SCALDED SKIN SYNDROME
STERNOCLAVICULAR JOINT INJURY
STEVENS–JOHNSON SYNDROME
STING, BEE
STING, SCORPION
STREPTOCOCCAL DISEASE
STRIDOR
SUBARACHNOID HEMORRHAGE
SUBDURAL HEMATOMA
SUDDEN INFANT DEATH SYNDROME (SIDS)
SUICIDE, RISK EVALUATION
SUPRAVENTRICULAR TACHYCARDIA
SYMPATHOMIMETIC POISONING
SYNCOPE
SYNDROME OF INAPPROPRIATE ANTIDIURETIC HORMONE SECRETION (SIADH)
SYNOVITIS, TOXIC
SYPHILIS
SYSTEMIC LUPUS ERYTHEMATOSUS
T
TACHYDYSRHYTHMIAS
TASER INJURIES
TEMPORAL-MANDIBULAR JOINT INJURY/SYNDROME
TENDON LACERATION
TENDONITIS
TENOSYNOVITIS
TESTICULAR TORSION
TETANUS
THEOPHYLLINE POISONING
THORACIC OUTLET SYNDROME
THROMBOTIC THROMBOCYTOPENIC PURPURA
THUMB FRACTURE
TIBIAL PLATEAU FRACTURE
TIBIAL/FIBULAR SHAFT FRACTURE
TICK BITE
TINEA INFECTIONS, CUTANEOUS
TOLUENE POISONING
TOOTHACHE
TORTICOLLIS
TOXIC EPIDERMAL NECROLYSIS
TOXIC SHOCK SYNDROME
TOXOPLASMOSIS
TRANSFUSION COMPLICATIONS
TRANSIENT GLOBAL AMNESIA
TRANSIENT ISCHEMIC ATTACK
TRANSPLANT REJECTION
TRAUMA, MULTIPLE
TRICHOMONAS
TRICYCLIC ANTIDEPRESSANT, POISONING
TRIGEMINAL NEURALGIA
TUBERCULOSIS
TULAREMIA
TUMOR COMPRESSION SYNDROMES
TYMPANIC MEMBRANE PERFORATION
U
ULTRAVIOLET KERATITIS
URETHRAL TRAUMA
URETHRITIS
URINARY RETENTION
URINARY TRACT FISTULA
URINARY TRACT INFECTIONS, ADULT
URINARY TRACT INFECTIONS, PEDIATRIC
URTICARIA
V
VAGINAL BLEEDING
VAGINAL BLEEDING IN PREGNANCY
VAGINAL DISCHARGE/VAGINITIS
VALVULAR HEART DISEASE
VARICELLA
VARICES
VASCULITIS
VENOUS INSUFFICIENCY
VENTILATOR MANAGEMENT
VENTRICULAR FIBRILLATION
VENTRICULAR PERITONEAL SHUNTS
VENTRICULAR TACHYCARDIA
VERTEBROBASILAR INSUFFICIENCY
VERTIGO
VIOLENCE, MANAGEMENT OF
VISUAL LOSS
VITREOUS HEMORRHAGE
VOLVULUS
VOMITING, ADULT
VOMITING, PEDIATRIC
VON WILLEBRAND DISEASE
W
WARFARIN/COUMADIN OVERDOSE
WARTS
WEAKNESS
WEST NILE VIRUS
WHEEZING
WITHDRAWAL, ALCOHOL
WITHDRAWAL, DRUG
WOLFF-PARKINSON-WHITE SYNDROME
WOUND BALLISTICS
Topics within this title:
Abdominal Aortic Aneurysm
Abdominal Pain
Abortion, Spontaneous
Abruptio Placentae
Abscess
Acetaminophen
Acetylcysteine
Acidosis
Adenitis
Adrenal Insufficiency
AIDS
Alcohol
Alkalosis
Amebiasis
Amenorrhea
Amnesia
Amphetamine
Amyotrophic Lateral Sclerosis
Anal Fissure
Anaphylaxis
Anemia
Aneurysm
Angioedema
Ankylosing Spondylitis
Antidiuretic Hormone
Aortic Aneurysm
Aortic Rupture
Aphthous Ulcers
Apnea
Appendicitis
Aqua
Arsenic
Arsenic Poisoning
Arteritis
Arthritis
Arthritis, Degenerative
Arthritis, Rheumatoid
Arthritis, Septic
Ascites
Asthma
Asystole
Ataxia
Atopic Dermatitis
Atrial Fibrillation
Atrial Flutter
Atrioventricular Blocks
Babesiosis
Back Pain
Barotrauma
Bell Palsy
Bicarbonate
Bite
Bite, Human
Blow-Out Fracture
Botulism
Bradyarrhythmias
Breast Disease
Bronchiolitis
Bronchitis
Burn
Burns
Bursitis
Calcium
Calcium EDTA
Calculus
Cancer
Candidiasis
Candidiasis, Oral
Carbamazepine
Carbon Monoxide
Carbon Monoxide Poisoning
Cardiac Arrest
Cardiogenic Shock
Cardiomyopathy
Cardiomyopathy, Hypertrophic
Carpal Tunnel Syndrome
Cauda Equina Syndrome
Cavernous Sinus Thrombosis
Cellulitis
Cerebral Aneurysm
cesarean section
Chalazion
Chancroid
Chest Pain
Cholangitis
Cholecystitis
Cholelithiasis
Cirrhosis
Cocaine
Coma
Compartment Syndrome
Confusion
Congestive Heart Failure
Conjunctivitis
Constipation
Contact dermatitis
Contusion
Cor Pulmonale
Coronary Vasospasm
Cough
Croup
Cushing Syndrome
Cyanosis
Cyanotic
Cyst
Cystic Fibrosis
Dacryoadenitis
Dacryocystitis
Decompression Sickness
Deep Vein Thrombosis
Delirium
Dementia
Dengue
Dengue Fever
Dermatitis
Dermatomyositis
Diabetes
Diabetes Insipidus
Diabetes Mellitus
Diabetic Ketoacidosis
Diaper Rash
Diarrhea
Digoxin
Dimercaprol
Diphenhydramine
Dislocation
Disulfiram
Diverticulitis
Diverticulosis
Diverticulum
Dizziness
DMSA
Drowning
Dysphagia
Dyspnea
ECG
Eclampsia
Ectopic Pregnancy
Eczema
Edema
Edetate Disodium
Ehrlichiosis
Embolism
Emergencies
Emergency
Encephalitis
Endocarditis
Endometriosis
Epididymitis
epidural
Epidural Abscess
Epiglottitis
Epinephrine
Epistaxis
Erysipelas
Erythema
Erythema Infectiosum
Erythema Multiforme
Erythema Nodosum
Ethanol
Ethylene Glycol
Failure to Thrive
Fatigue
Fever
Fevers
Fibrocystic Breast Disease
Fibromyalgia
Fibrosis
Fistula
Flail Chest
Flumazenil
Fomepizole
Foreign Body
Fournier Gangrene
Fracture
Fracture, Open
Fractures
Frostbite
Gallstone
Gangrene
Gas Embolism
Gastric Outlet Obstruction
Gastritis
Gastroenteritis
Gastroesophageal Reflux
Gastroesophageal Reflux Disease
Giant Cell Arteritis
Giardiasis
Gingivitis
Glaucoma
Global Amnesia
Glomerulonephritis
Glucagon
Glucose
Gout
Granulocytopenia
Head Trauma
Head Trauma, Penetrating
Headache
Headache, Cluster
Headache, Migraine
Heart Disease
Heart Murmur
HELLP Syndrome
Hematoma
Hematuria
Hemophilia
Hemoptysis
Hemorrhage
Hemorrhagic Shock
Hemorrhoid
Hemothorax
Hepatic Encephalopathy
Hepatitis
Hepatorenal Syndrome
Hernia
Herniated Disc
Herpes Simplex
Herpes Zoster
Herpes, Genital
Hiccups
Hirschsprung Disease
HIV
Hordeolum
Horner Syndrome
Hydatidiform Mole
Hydrocele
Hydrocephalus
Hypercalcemia
Hyperemesis Gravidarum
Hyperkalemia
Hypernatremia
Hyperparathyroidism
Hyperthermia
Hyperthyroidism
Hyperventilation
Hyphema
Hypocalcemia
Hypoglycemia
Hypokalemia
Hyponatremia
Hypoparathyroidism
Hypothermia
Hypothyroidism
Ileus
Impetigo
Inborn Errors of Metabolism
Infarction
Inflammatory Bowel Disease
Influenza
Injuries, Foot
Injuries, Hand
Insulin
Intracerebral Hemorrhage
intubation
Intussusception
Iritis
Iron
Ischemia
Isoniazid
Isopropanol
Jaundice
Kaposi Sarcoma
Kawasaki Disease
Keratitis
Knee Dislocation
Labyrinthitis
Laceration
Laryngitis
Lateral Sclerosis
Lead
Lead Poisoning
Leukemia
Lightning Injuries
Ludwig Angina
Lupus
Lyme Disease
Lymphadenitis
Lymphangitis
Lymphogranuloma Venereum
Malaria
Mallory-Weiss Syndrome
Mandibular Fractures
Mastitis
Mastoiditis
MDMA
Measles
Meckel Diverticulum
Meningitis
Mercury
Mercury Poisoning
Methanol
Methemoglobinemia
Methylene Blue
MI
Migraine
Mitral Valve Prolapse
Molluscum Contagiosum
Multiple Myeloma
Multiple Sclerosis
Mumps
Murmur
Mushroom Poisoning
Myasthenia Gravis
Myocardial Infarction
Myocarditis
Near Drowning
Neck Injury
Neonatal Jaundice
Nephrotic Syndrome
Neuralgia
Neuritis
Neuroleptic Malignant Syndrome
Nicotine
Oculomotor Nerve Palsy
Opportunistic Infection
Optic Neuritis
Orchitis
Osgood-Schlatter Disease
Osteogenesis Imperfecta
Osteomyelitis
Osteoporosis
Otitis
Otitis Externa
Otitis Media
Ovarian Cyst
Overdose
Oxygen
Pain
Palsy
PAM
Pancreatic Pseudocyst
Pancreatitis
Paraphimosis
Parkinson Disease
Paronychia
Patent Ductus Arteriosus
Pediculosis
Pelvic Inflammatory Disease
Pemphigus
Penicillamine
Peptic Ulcer
Pericardial Effusion
Pericarditis
Periodontal Abscess
Peripheral Neuropathy
Peripheral Vascular Disease
Peritonitis
Peritonsillar Abscess
Perthes Disease
Pertussis
Pharyngitis
Phenytoin
Pheochromocytoma
Phimosis
Physostigmine
Phytonadione
Pityriasis
Pityriasis Rosea
Placenta Previa
Plant Poisoning
Pleural Effusion
Pneumocystis carinii Pneumonia
Pneumomediastinum
Pneumonia
Pneumothorax
Poisoning
Polio
Polycythemia
Polycythemia Vera
Polymyositis
Postpartum Hemorrhage
Potassium
Pralidoxime
Pre-Excitation Syndromes
Priapism
Prolapse
Prostatitis
Protamine
Proteinuria
Pruritus
Pseudogout
Pseudotumor Cerebri
Psoriasis
Pulmonary Disease
Pulmonary Edema
Pulmonary Embolism
Purpura
Pyelonephritis
Pyloric Stenosis
Rabies
Radiation Injury
Rash
Rectal Prolapse
Reiter Disease
Renal Calculus
Renal Failure
Retinal Artery Occlusion
Retinal Detachment
Retinal Vein Occlusion
Retropharyngeal Abscess
Reye Syndrome
Rhabdomyolysis
Rheumatic Fever
Rib Fracture
Rocky Mountain Spotted Fever
Rubella
Rupture
Sarcoidosis
Sarcoma
Scabies
Sciatica
Sclerosis
Seborrheic Dermatitis
Seizure
Seizure, Febrile
Sepsis
Serum Sickness
Shock
Shoulder Dislocation
SIADH
Sick Sinus Syndrome
SIDS
Signs and Symptoms
Sinus Thrombosis
Sinusitis
Skin Cancer
Sleep Apnea
Snake Envenomation
Sodium
Soft Tissue Infections
Spider Bite
Spinal Injury
Spondylitis
Spondylolisthesis
Spondylolysis
Sporotrichosis
Sprain
Staphylococcal Scalded Skin Syndrome
Stenosis
Sting
Strain
Stridor
Subarachnoid Hemorrhage
Subdural Hematoma
Succimer
Sudden Infant Death
Sudden Infant Death Syndrome
Supraventricular Tachycardia
Syncope
Syndrome
Syndromes
Synovitis
Syphilis
Systemic Lupus Erythematosus
Tachycardia
Tendonitis
Tenosynovitis
Testicular Torsion
Tetanus
Theophylline
Thoracic Outlet Syndrome
Thrombocytopenic Purpura
Thrombosis
Tinea
Toluene
Toothache
Torsion
Torticollis
Toxic Epidermal Necrolysis
Toxic Shock
Toxic Shock Syndrome
Toxoplasmosis
Tracheitis
Transient Global Amnesia
Transient Ischemic Attack
Trauma
Trauma, Multiple
Tricyclic antidepressant
Trigeminal neuralgia
Tuberculosis
Tularemia
Tumor
Tympanic Membrane Perforation
Ulcer
Ulcers
Unstable Angina
Urethritis
Urinary Retention
Urinary Tract Infections
Urticaria
Uterine Bleeding
Vaginal Discharge
Vaginitis
Valvular Heart Disease
Varicella
Varices
Vascular Disease
Vasculitis
Venous Insufficiency
Ventricular Fibrillation
Ventricular Tachycardia
Vertebrobasilar Insufficiency
Vertigo
Virus
Vitreous Hemorrhage
Volvulus
Vomiting
von Willebrand Disease
Warts
West Nile virus
Wheezing
Wolff-Parkinson-White Syndrome
Zoster