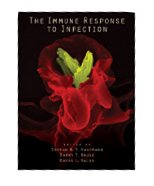 Author: Stefan Kaufmann, Barry Rouse, David Sacks
Affiliation: Max Planck Institute for Infection Biology, Berlin, Germany
Publisher: ASM Press
Publication Date: 2011
ISBN 10: 1555815146
ISBN 13: 9781555815141
eISBN: 9781555816872
Edition: 1st

Description:
With an approach that covers the range from basic research to clinical applications, The Immune Response to Infection examines the mechanisms of both the innate and adaptive immune systems as they relate to infection and disease. The book not only explores the underlying mechanisms of immunity, but also the many sequelae of host-pathogen interactions, ranging from the sterile eradication of the invader, to controlled chronic infection, to pathologic corollaries of the host-pathogen crosstalk. It also explores the pathogenesis of certain autoimmune disorders and cancers that are induced by infectious agents but then become independent of the infection process. Most chapters consider host-pathogen interactions in the context of the broad divisions of the microbial world--viruses, bacteria, and parasites--and do not confine their discussions to any individual pathogen. However, the book does dedicate special attention to the three major killer diseases--HIV/AIDS, tuberculosis, and malaria--and the influenza viruses. All of the chapters consider the special attributes that make each pathogen difficult to control, building a thorough discussion of current prophylactic and therapeutic vaccines and the prospects for future vaccine development. By reviewing the entire spectrum of immunology as it relates to infectious agents, this book underscores the important relationship between molecular biology and clinical immunology. It is recommended equally for researchers and students who focus on the pathogen and those who examine the immune system: immunologists, molecular microbiologists, and clinicians specializing in infectious disease.
Related Titles