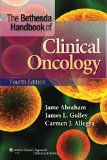 Author: Jame Abraham, MD, FACP, James Gulley, MD, PhD, FACP, Carmen Allegra, MD
Affiliation: Taussig Cancer Institute, Cleveland Clinic, Cleveland, OH
Publisher: Lippincott Williams & Wilkins
Publication Date: 2014
ISBN 10: 1451187580
ISBN 13: 9781451187588
eISBN: 9781469866031
Edition: 4th

Description:
The Bethesda Handbook of Clinical Oncology is a clear, concise and comprehensive reference book for the busy clinician to use in his or her daily patient encounters. It focuses less on etiology, pathophysiology, and epidemiology, and considerably more on practical clinical information. Cancer management information is presented in a reader-friendly format that offers a comprehensive review of each disease along with the most commonly used treatment regimens, including chemotherapy dosing and schedules.
Related Titles