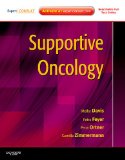 Author: Mellar Davis, MD, FCCP, Petra Feyer, MD, PhD, Petra Ortner, PharmD, PhD, Camilla Zimmermann, MD, PhD, FRCPC
Affiliation: Case Western Reserve University
Publisher: Elsevier Health Sciences
Publication Date: 2011
ISBN 10: 1437710158
ISBN 13: 9781437710151
eISBN: 9781437735949
Edition: 1st

Description:
Supportive Oncology, by Drs. Davis, Feyer, Ortner, and Zimmermann, is your practical guide to improving your patients' quality of life and overall outcomes by integrating palliative care principles into the scope of clinical oncologic practice at all points along their illness trajectories. A multidisciplinary editorial team, representing the dual perspectives of palliative medicine and oncology, offers expert guidance on how to effectively communicate diagnoses and prognoses with cancer patients and their families, set treatment goals, and manage symptoms through pharmacological therapies, as well as non-pharmacological therapies and counselling when appropriate.
Related Titles