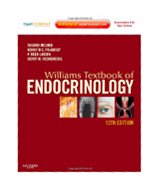 Author: Shlomo Melmed, MD, Kenneth Polonsky, MD, P. Larsen, MD, FACP, FRCP, Henry Kronenberg, MD
Affiliation: Cedars-Sinai Medical Center; Los Angeles, CA
Publisher: Elsevier Health Sciences
Publication Date: 2011
ISBN 10: 1437703240
ISBN 13: 9781437703245
eISBN: 9781437736007
Edition: 12th

Description:
The latest edition of Williams Textbook of Endocrinology edited by Drs. Shlomo Melmed, Kenneth S. Polonsky, P. Reed Larsen, and Henry M. Kronenberg, helps you diagnose and treat your patients effectively with up-to-the minute, practical know-how on all endocrine system disorders. Comprehensive yet accessible, this extensively revised 12th Edition updates you on diabetes, metabolic syndrome, obesity, thyroid disease, testicular disorders, and much more so you can provide your patients with the most successful treatments. Find scientific insight and clinical data interwoven in every chapter, reflecting advances in both areas of this constantly changing discipline, and presented in a truly accessible format. You'll also access valuable contributions from a dynamic list of expert authors and nearly 2.000 full-color images to help you with every diagnosis. Elsevier does not support Expert Consult access for institutional customers.
Related Titles