FLUIDS AND ELECTROLYTES WITH CLINICAL APPLICATIONS: A PROGRAMMED APPROACH This title has been archived.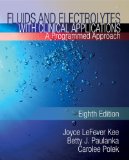 Author: Joyce Kee, MS, RN, Betty Paulanka, EdD, RN, Carolee Polek, PhD, RN
Affiliation: University of Delaware, Newark
Publisher: Delmar Cengage Learning
Publication Date: 2010
ISBN 10: 1435453670
ISBN 13: 9781435453678
eISBN: 9781111783976
Edition: 8th

Description:
Fluids and Electrolytes with Clinical Applications: A Programmed Approach puts you in control of your learning experience. The self-paced, programmed approach makes learning and mastering difficult concepts simple and straightforward. The eighth edition provides a comprehensive survey of fluid, electrolyte, and acid-base imbalance concepts from the functions and movement of body fluids to intravenous solutions. Benefits: * Comprehensive approach offers the broadest possible survey of critical fluid and electrolyte concepts with applications * Real-life case studies that emphasize HIPAA regulations apply important information across the life span in health care settings * Concise chapters target fluid, electrolyte, and acid-base balances with numerous clinical situations to help readers master key concepts in a step-by-step approach * Emphasis on evaluation and outcomes clarifies expected outcomes and reinforces best practices * NEW! Includes important new information on fluid and electrolyte imbalances related to bariatric surgery and updated information on COPD. * NEW! The glossary has been expanded and updated with new and revised definitions.
Related Titles