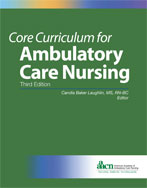 Author: Candia Laughlin, MS, RN-BC
Affiliation: University of Michigan Health System; Ann Arbor, MI
Publisher: American Academy of Ambulatory Care Nursing
Publication Date: 2013
ISBN 10: 0984659749
ISBN 13: 9780984659746
eISBN: 9781940325309
Edition: 3rd

Description:
The Core Curriculum for Ambulatory Care Nursing, 3rd edition, has been updated from cover to cover, as things change rapidly in this professional nursing specialty. Content has been revised and enhanced, and reflects the new test content addressed in the Ambulatory Care Nursing certification exam, such as expanded focus on clinical care and telehealth practice. New content includes a chapter on perioperative care and another on the changing role of the ambulatory care nurse with medical homes, transitional care and complementary and alternative therapies. Over 30 hours of continuing education credit are available and are free to members of AAACN. Purchase a copy to ensure you or your facility is providing the highest level of patient care in the ambulatory setting.
Related Titles